Reading? Overrated! Download the review for later or listen to it below! If you have a product you want to talk about, tell us about it. Here's how.


About Face Reviewed by Derek Merdinyan [1:35m]:
Play Now
|
Play in Popup
|
Download
—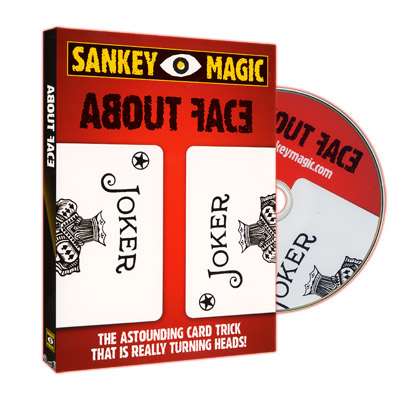 About Face is a difficult item to review since it's one of those items you'll like it or dismiss the effect as too simple.
Overall, the DVD is of typical Sankey Magic quality: good quality picture, instruction, sound, and crazy outbursts from the host.
The supplied cards are conveniently printed on Bicycle stock BUT, they are (what I've been told) 'Canadian Jokers'. What is a Canadian Joker, you ask? Take a look above at the DVD cover, specifically at the index corners of the cards. Some magicians are OCD about minor details like this and don't want to deal with that one layman who notices the index corners are different and therefore must be trick cards (unless you're in Canada).
Jay was even so kind as to include an extra 'About Face Joker' in case you loose or damage one; especially considering your audience can (and will!) examine some of the cards after they change.
I've tested this effect and received a range of responses to it, going from good to ok. I think it's important to keep in mind who you perform this effect to, especially considering that the magic that happens in this effect is subtle and will be completely missed unless someone is giving their full, undivided attention.
If you are a magic dealer and are interested in carrying this product, you can contact Murphy's Magic Supplies at 916 853 9292 or visit them on the web at www.murphysmagicsupplies.com.