Reading? Overrated! Download the review for later or listen to it below! If you have a product you want to talk about, tell us about it. Here's how.


The Trilogy - Reviewed by Derek Merdinyan [1:24m]:
Play Now
|
Play in Popup
|
Download
—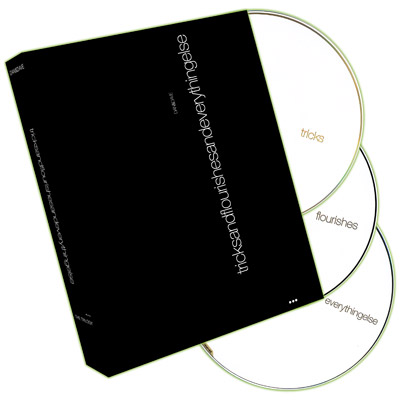 When the subtitle of a product is so long that it doesn't even fit on the page, you know this is something to take a look at.
The long awaited 'Trilogy' from Dan and Dave Buck is finally here and rocking the boundaries in card work in every direction.
At one point, I was foolish enough to think I could master one of the flourish-laden, eye-popping routines… And I was right! Dan and Dave not only give helpful, close up shots of the work at hand, but most of the segments also include Over the Shoulder (OTS) shots of how the moves look from your POV.
As for the overall DVD interface, the 'tricks' DVD and the 'flourishes' DVD share a fairly similar look and conveniently separate each item's demonstration/preview of the effect from the instruction segment; in other words, you don't have to bother with an extensive 'chapter' list and can still go directly where you want.
The 'everythingelse' DVD really is just 'everything else'; how else do you describe a series including 'deck spreads', simple changes, and a plethera of other, uh, titbits. The 'everythingelse' DVD also includes 'Flourishes 101′ which will bring comfort to those who've sat with white knuckled hands on their deck throughout the otherwise intermediate/expert level material.
If you are a magic dealer and are interested in carrying this product, you can contact Murphy's Magic Supplies at 916 853 9292 or visit them on the web at www.murphysmagicsupplies.com.