Reading? Overrated! Download the review for later or listen to it below! If you have a product you want to talk about, tell us about it. Here's how.


Friend Vol. 2 - Reviewed by Derek Merdinyan [1:40m]:
Play Now
|
Play in Popup
|
Download
—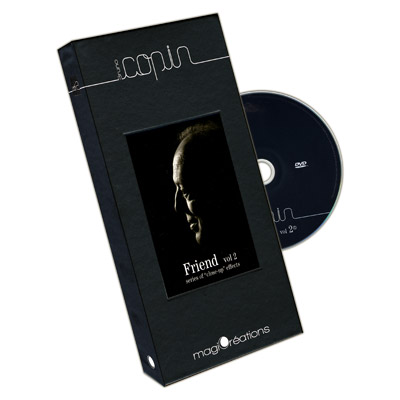 Each volume of the 'Friend' series is professionally packaged. Likewise, all the included items are made of top quality materials – and for $160 a volume, they had better be!
You'll find plenty of original close up, thread-based miracles that'll make you giddy.
In addition to another handful of Bruno's wonderful effects, buyers also receive a glove (for one of the effects), a much larger sample of Bruno's thread, and a pair of glasses (to help you see the thread when stripping it). The biggest standout feature of this set is something called 'Triangular Table Talk' – essentially a discussion on the history and usage of thread between Bruno Copin, Daniel Rhod, and David Stone. Triangular Table Talk is conducted in French and unlike everything else on these DVDs, is not presented in English (although you do receive a specially printed translation). It's a little annoying trying to read from a book and follow along with the discussion at the same time, but what are you gonna do (learn French?)
Two standout features of Bruno's thread work are his use of musical choreography (not addressed on the DVDs) and his beautiful scripting.
This is something for experienced and serious thread workers looking for some great new effects. My guess is this was priced to keep curious eyes away. It should be noted however, that the box says 'Ideal for Beginners' and that the material is not necessarily technically demanding, I just think it's too expensive for someone merely curious.
If you are a magic dealer and are interested in carrying this product, you can contact Murphy's Magic Supplies at 916 853 9292 or visit them on the web at www.murphysmagicsupplies.com.