Warp II
by Dean Tellefson
DVD with gaffs included
$25.00 postpaid
Available directly on www.deantellefson.com
Disclosure: Although I am receiving no monetary compensation from this product, I will be publishing Warp II in its basic form in an upcoming book called "The Cardwarp Tour."
Warp II was originally released by Dean in the eighties as a package trick, without the advantage of video to help teach the routine. He is re-releasing it to a new audience but is still including the handmade gaffs.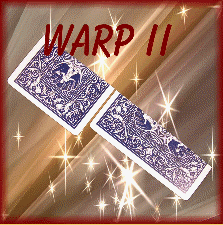 EFFECT:
A two phase Cardwarp routine kicked up a notch.
WHAT YOU RECEIVE:
A gaffed set of Warp II cards. A DVD that includes a performance of Warp II, a full explanation and tips of the routine, and a full explanation on the construction of the cards.
THIS IS WHAT YOU SEE:
Phase One, Two cards are shown, one is folded lengthways, the other in half short ways. The long card is inserted into the short card back out, and without reversing the two cards; the long card is pushed through to emerge face up from the other side. So far pretty standard as Cardwarp goes, but here's the kicker. You now push the face up card back through to its original position and it emerges face up from the other side. The long card has completely turned face up. You proceed to pull the face up card completely out of the short card!
Phase two, begins similar too the first phase with one exception. You open the short card and lay the face out long card into it. You then close the short card over the face out long card. There can be no doubt that the card is face out. You even prove it by pushing the card through and it emerges, still face out. Without a pause you push the face out card back through and it emerges back out. You continue to pull the long out card out of the short card until it completely clears the short card.
PROS & CONS:
On the Pros side, you definitely can't overlook the extremely clean displays of the long card. Dean has thought the routine through; there are no wasted moves, just two phases that build upon each other.
On the Con side, the gaff cards are delivered to you on Hoyle backed cards, not the standard Bicycle backs. I personally don't feel that this is really a Con but some might. I'm glad that Dean took the time to include a set of the gaffs instead of just teaching me how to make them. I can make my own set on Bicycle cards when I'm ready to perform the routine.
Warp II is in no way as impromptu and the original Cardwarp routine by Roy Walton. I see Warp II in the same light as a packet trick like Color Monte. It's a great routine that uses gaff cards. Find a place to insert it into your set and you'll have a strong, extremely visual piece of magic that your spectators will thoroughly enjoy!