Reading? Overrated! Download the review for later or listen to it below! If you have a product you want to talk about, tell us about it. Here's how.


The Second Guest - Reviewed by Derek Merdinyan [1:43m]:
Play Now
|
Play in Popup
|
Download
—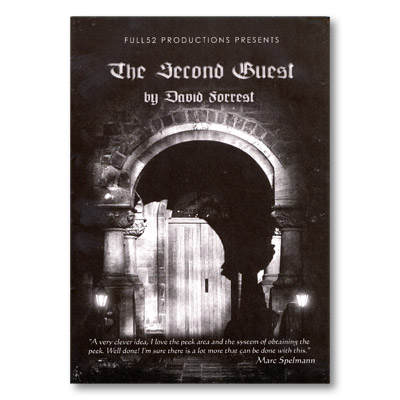 The Second Guest is a simple solution to what seems an impossible effect under test conditions. The comprehensive booklet teaches you how to setup and prepare the special card box in addition to the basic routine and other possibilities for this versatile peek device.
Once prepared, the secret to the box is not 'obvious' but it is not 100% invisible in close quarters. Fortunately, because of the way the box is handled throughout the routine, the special part of the box is rarely seen and therefore draws little attention.
The Second Guest is not something you could easily prepare on the go if presented with someone else's deck of cards, nor would you be able to hand it out for examination (or at least not the box). Of course, this effect was designed for a real world 'worker' – whether you perform up close in restaurants or before an audience of hundreds.
If you are a magic dealer and are interested in carrying this product, you can contact Murphy's Magic Supplies at 916 853 9292 or visit them on the web at www.murphysmagicsupplies.com.