I'm Derek Merdinyan and right now I'll be reviewing Peter Loughran's "Fire Flight".
The description for Fire Flight reads: "A borrowed ring vanishes in a flash of fire! The borrowed ring then visibly rematerializes from the flames of a paper origami ring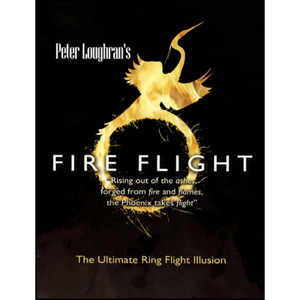 around the center of a candles across the table in the blink of an eye".
This IS a professional routine and can be done both in a stand up environment, as well as in table-hopping close up set. In fact, if you work in a restaurant with candlesticks on the table, you HAVE to look into this. The angles on this are very fair for a 360 degree performing environment.
A few product points I should mention: There are no pulls, threads, or magnets. It can be done standing up or sitting down (surrounded!), No sleeves or special clothing are required, it's easy to do, and, most importantly, the ring is safe at all times, and never comes in direct contact with the fire.
I feel I need to say this again, this is a professional worker's routine, meaning that hobbyists looking for a cool gimmick should look elsewhere.
I give "Fire Flight" four and a half stars out of five.
Peter Loughran's "Fire Flight" retails for $29.99 and is available directly from Peter at www.masterofillusions.ca

Derek Merdinyan reviews Fire Flight [3:51m]:
Play Now
|
Play in Popup
|
Download