Sick of all this pesky reading? Download the review for later or listen to it below!


Derek Merdinyan reviews Unexpected [2:02m]:
Play Now
|
Play in Popup
|
Download
—
Today we'll be talking about 'Unexpected' the two disk DVD set of impromptu mentalism from Inner Mind Productions.
The material in here is excellent – and if you aren't a mentalist, don't use that as your excuse to pass this by. Most seasoned mentalists will have some of these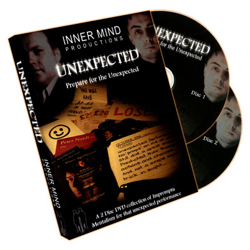 routines in their current repertoire, but the versions presented here were redesigned specifically for impromptu performances.
A lot of the effects require several business cards (or bank notes) and a marker – and usually require a moment or two in private (the bathroom) to prepare for the trick.
Most magicians have learned to take the claim of 'impromptu' magic with a grain of salt – purists go by the 'naked on a beach' definition, while others believe that as long as the objects are borrowed, it's impromptu magic. This DVD gets its feet wet in both ponds.
Instruction is done in a conversational style between Peter Nardi and Marc Spelmann. These two minds have not only collaborated to create some strong magic, but also work very well together on camera.
The material on these DVDs was designed specifically for 'unexpected' performances – so despite the fact that these routines have some power behind them, they were not meant to replace your current working reperitoire. The best strategy is to master 2 or 3 of these routines so you can slay your audience, especially when it's unexpected.
I give "Unexpected" four and a half stars out of five for providing exceptional real world material that can be performed anytime, anywhere.
This DVD set retails for $65 dollars and is available at most magic dealers.
Dealers can purchase these products directly from Murphy's Magic Supplies, Inc. – (916)853-9292 www.murphysmagicsupplies.com.