Sick of all this pesky reading? Download the review for later or listen to it below!


Melting Point reviewed by Derek Merdinyan [1:44m]:
Play Now
|
Play in Popup
|
Download
—
I have something very exciting – it's the Cesaral "Melting Point Reloaded" DVD.
This truly amazing. People throw that word around a lot – I promise to use words of praise if a product deserves it – this one does.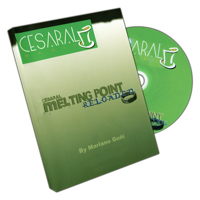 The DVD covers 13 new ways to use the simple gimmick. Everything is as simple and beautiful as the original 'Melting Point'. If you are a cups and balls performer – this is a must, vanishes, penetrations, and loads are sinfully easy. If you are a coin worker, there are beautiful changes and penetrations a plenty. If you find yourself performing in 'odd' situations, there's even a matrix routine using thumbtacks – you perform this on the seat of a chair or on a carpeted floor (because the tacks are stuck in the surface material).
If you don't own the original Cesaral Melting Point but you get this DVD, you'll definitely go back and buy the original.
I'll say it again, the stuff here is (expletive deleted) amazing!
I am giving this amazing DVD four and a half stars out of five.
The Cesaral Melting Point Reloaded DVD retails for $35
If you are a magic dealer interested in purchasing this product, you can contact Murphy's Magic Supplies at 916 852 9292 or visit them on the web at www.murphysmagicsupplies.com