Sick of all this pesky reading? Download the review for later or listen to it below!


Derek Merdinyan reviews Zoom, Bounce and Fly [1:41m]:
Play Now
|
Play in Popup
|
Download
—
Before me on the chopping block right now is "Jeff McBride's Zoom, Bounce, and Fly"
For years, Jeff's been holding his techniques for spinning and shooting cards a dear secret – and at long last, here they are!
On this DVD, Jeff covers all aspects of card throwing – everything from card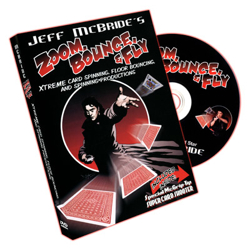 preparation to the history of the art, and something not so obvious, safety.
Like +95% of card manipulation, the stuff on this DVD is going to take months – if not many years to master. Jeff even states that he has to feel 'confident' before throwing in certain moves to his famous card act.
Of all the 'secrets' Jeff releases, the greatest one is his 'Mcgrip-Tip'. Without blatantly saying what this is, the provided 'Tip' doubled the height of my Long Distance Spinner, the first time I tried it on.
The main thing is that the material here is what you've probably been waiting for years – unfortunately, this DVD doesn't feel like the original 'Art of Card Manipulation' series. The explanations are done much quicker and Jeff doesn't always repeat the moves like in his original manipulation tapes.
That said, I'm crossing my fingers that Jeff re-films his highly successful 'Art of Card Manipulation' set. Perhaps on the future, when people are forgetting what DVDs are, Jeff will surprise the world with a beautifully re-mastered 5 DVD set. Yes, I said 5 DVDs, reorganize the original material: one DVD for flourishes, one for single card productions, one for fan manipulation, one for card shooting, and one for all the new stuff that's come about since the original taping.
I am giving 'Zoom, Bounce, and Fly' four and a quarter stars out of five.
If you are a magic dealer interested in carrying this product, you can contact Murphy's Magic Supplies at 916 853 9292 or visit them on the web at www.murphysmagicsupplies.com