Sick of all this pesky reading? Download the review for later or listen to it below!


Derek Merdinyan reviews Dominatricks [1:37m]:
Play Now
|
Play in Popup
|
Download
—
We'll be checking out Tyler Wilson's book "Dominatricks".
Among its contents, this book contains Tyler's version of Roy Walton's 'Card Warp' – on steroids, an ambitious card routine that relies on post-it notes for the magic to happen, and a coin in bottle routine wherein the final product can be given away,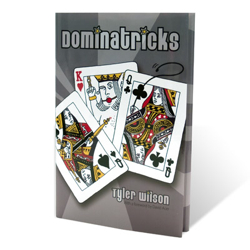 carried in a pocket, and if need be, eaten!
Tyler's writing style is very clear and entertaining. Lots of the explanations are framed amongst a flirtatious performance (presentation) with a female spectator. The bits of humor written in everywhere you look almost make me think Paul Harris was the final editor…
Left-handed magicians are going to love this book – not because Tyler is left handed and wrote the book as such, it isn't. However, the book does come with a quality made performance CD detailing the various sleights Tyler has included in this book. So what is there that will make the southpaws happy? The CD also contains an electronic copy of the book – rewritten for left-handed magicians!
Dominatricks retails for $40 and includes the performance CD.
I give 'Dominatricks' four and a half stars out of five.
If you are a magic dealer and are interested in carrying this product, you can contact Murphy's Magic Supplies at 916 853 9292 or visit them on the web at www.murphysmagicsupplies.com
From iTricks Reviews – thanks for listening!