Sick of all this pesky reading? Download the review for later or listen to it below!


Derek Merdinyan reviews Coin Thru Box [1:58m]:
Play Now
|
Play in Popup
|
Download
—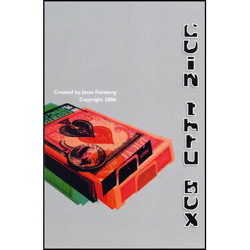 At the moment, I have Jesse Feinberg's 'Coin Thru Box' on the chopping block.
The effect is exactly as the title suggests – a coin is placed under a new deck's protective cellophane seal and proceeds to melt through the box.
I have real mixed feelings about this effect, while it has the potential to be incorproated into a larger effect, I feel that the original premise lacks justification. Luckily, Jesse (briefly) covers how to incorporate this effect so that the coin apparently locates a selection (or two) in the deck.
The package comes with enough 'stuff' to make up to 10 gimmicks. However, there's a good chance that you'll only be able to get 5 gimmicked 'sets', depending on how you open new decks. If you run out, the 'stuff' is easy to find, lots of dealers are carrying this now and it's relatively inexpensive.
Part of the ad copy reads, quote, "the box is not gaffed!" end quote. Eh, maybe. There is something there that has to be removed before the box can be examined – and if you perform this with a candy/cigarette box, it's going to be really hard to secretly remove the 'special something'.
At twenty dollars, Feinberg might have overvalued this effect. Yes, the 'stuff' and gimmicks you make are about as good as you can get them, but $20 for the idea and 'extras' – valued around a buck fifty for the amount supplied – is a little outrageous.
I am giving 'Card Thru Box' two and a half stars out of five.
Dealers can purchase these products directly from Murphy's Magic Supplies, Inc – (916)853-9292 www.murphysmagicsupplies.com