Sick of all this pesky reading? Download the review for later or listen to it below!


Derek Merdinyan reviews Bubble Gum Magic [2:10m]:
Play Now
|
Play in Popup
|
Download
—
Right now I have two DVDs on the chopping block, "Bubble Gum Magic" Volumes 1 and 2.
Before reviewing these DVDs, I thought I was in for something special, something
different – but less than 20 minutes in to Vol. 1, I was struggling to keep focus. A large portion of each DVD was spent showing how to prepare each effect – and there's a TON of preparation. Most of the effects require a good 5-10+ minutes of preparation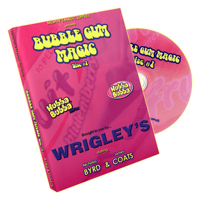 - often good for just one performance. Most of the effects didn't require any explanation seeing as most crafty magicians should be able to figure out how to open, gaff, and close a pack of gum; and present it in a supposedly untampered nature.
The effects were performed out in the real world (in a candy shop) and got very few got any reactions – maybe it was the people, but maybe not. I think the material in here is best suited for walk-around performers that work in family restaurants.
Fortunately, each DVD has one notable effect that on it's own merits value. Volume One contains an 'impromptu' version of Andy Leviss' "Sticky Situation" – it requires a bit of in the hands pre-positioning and 3 pieces of gum, but when the effect is over, you can give the gum away (if anyone's willing to take it…) Volume Two contains an effect where a few pieces of gum (up to 2) are removed from a pack of Eclipse gum and given to several spectators – and moments later, the pieces return, sealed within the plastic and foil seal.
Each DVD is fairly priced at $15 a volume.
Dealers can purchase these products directly from Murphy's Magic Supplies, Inc – (916)853-9292 www.murphysmagicsupplies.com