Magic Reviews by Cameron Ramsay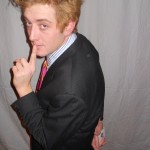 Hello readers! Welcome to my new review section. If you are looking for a column where a guy rips into bad magic products than tries to trash the creator than this is not the column for you. My whole idea and goal for the review column is to just highlight good effects and recommend creators that put out great products. Yes the format of the column might change but hang on there guys, this should be a cool trip
T2P
Torn to Pieces
Shawn Farquhar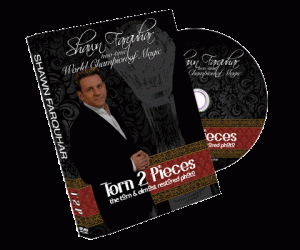 Manufacturer's Description
Here's the killer effect Shawn has kept secret for over a decade. It's the effect Shawn does when he wants to get a client to book him again and again! A real photograph, signed by the spectator, is torn into four pieces. The photo is really torn. Then in an instant all four pieces join together but in the wrong order leaving the spectator with a mismatched photo with their signature! That's right their signature is on the odd "almost restored" photo.
Cameron's Description
Okay it's not often you see an effect that is a killer on television and that's also usable for a walk- around performer. Shawn's effect does all of that and it leaves you with the chance to add your own personality.
Shawn does give many ideas of what photos to use (he also supplies digital images to get started with) and also presents ideas for many age groups. I am not the best with kids so when I saw Shawn explain the version with Humpty Dumpty I knew it would be going into my close – up arsenal. No, not the soccer team.
Cameron's Favorite Part
This is a personal effect; it can be used to tell your audience exactly who you are. My favorite aspect is that this can be carried in your wallet and it actually makes sense to have it. Bravo Shawn, Bravo!
Thanks for reading my first column, many more reviews to come. If you have any comments, concerns or submissions please email me or contact via this new thing called the World Wide Web.
Cam
MrCameronRamsay@gmail.com
@Cameron401 on Twitter