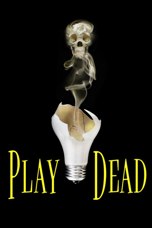 With Todd Robbins and Teller's spook show Play Dead officially shuffling east to the windswept isle of Manhattan, Las Vegas Review-Journal columnist Mike Weatherford ruminates on the likelihood of such a show (which was workshopped extensively in Sin City) ever living in Las Vegas on a permanent basis.
As I drove home, adrenaline still pumping, I thought about whether it could even work in a casino. On one hand, it's what I've been wanting to see: magic reinvented in a creative new context, beyond tigers in boxes. But the distance to New York seems more in miles of context than content.

With time and patience, you could sell this show here. You could explain it, playing up what Teller calls the "spooky amusement" factor, as an October opening in New York will no doubt do.

But the very existence of "off-Broadway" gives the show a context; no need to explain it will be sophisticated and thoughtful in its own gory way: "You look in low places for high things," Teller says.
The column also mentions that Dead went through three distinct re-writes, something the jibes with the reviews we've heard from folks that saw it multiple times and noticed significant changes.