SPONSORED POST

"I didn't start doing magic until my late 20′s. If I saw magic on television, I'd try to come up with a way it was done. Most of my thinking was 'wrong'… but led to some very useful tools I use in my magic today! It's time to share it."
- Rich Ferguson
Learn a KILLER utility move that's a strange hybrid of a second deal, palm and double lift. Imagine being able to secretly switch cards, visually change cards, hide cards, add cards, produce cards and do dozens of other sleights using ONE unusual move.
Also, learn Rich's unorthodox thinking for:
Second deals
Producing a chosen card
Popping a card across hands
Using your arm and stomach for card switches
Various ideas with common objects and more…
This is a not a tricks DVD filled with performances or routines. This IS a series of techniques and awesome ideas you can use in your magic where you see fit.
Over 50 Unorthodox Moves plus various ideas and bonus.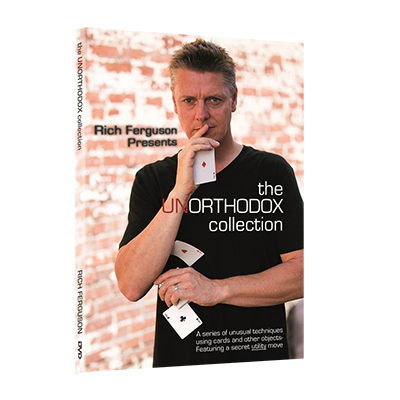 Available at your favorite Murphy's Magic dealer including:
Ronjo
Magic Trick Store
Hocus Pocus
MJM Magic
Merchant of Magic
Big Guy's Magic
SPONSORED POST