This year Rudy Coby brought something really special to the stage at the Magic Castle. When your pre-show video involves a camera drone flying over Hollywood Boulevard capturing Rudy Coby as he drives his ten foot tall giant Vans shoe to the valet stand, you know you're up for something out of this world. How does all that crazy genius come together? We asked insider Valeria Benavides to share with us what it's like to be behind the scenes for The Coolest Magician on Earth's™ show during Magic vs. Science Week at the Magic Castle.
Hello, my name is Valeria and I am one of 16 performers from Rudy Coby's recent "Magic vs. Science" show at the prestigious Magic Castle in Hollywood, California. The Magic Castle is the exclusive clubhouse of The Academy of Magical Arts where magicians perform incredible shows for fans of magic. This is one of the most wondrous and enchanting environments in Los Angeles, decorated with classical magical relics and filled with people dressed in elegant evening wear.
Rudy Coby is a wacky magician/mad scientist who aims to make his audiences laugh and cringe by performing acts like a four-legged dance and hammering a nail into his skull. His towering jet black hair, dark sunglasses and white labcoat do the trick to transfix all who see him. He is truly a delight to watch; I would recommend his show to anyone!
The other stars of the show are outstanding performers: Pharside and his dancers, The Academy of Villains and the world-famous turntablist DJ Swamp. This was the first time that Rudy has shared his stage with these performers; it was truly a very special event! I can't believe I got to be part of such an amazing cast of characters!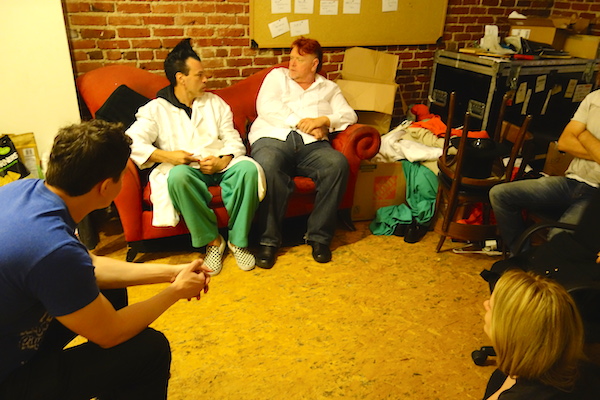 Pharside and his partner Krystal Meraz, who choreograph and direct the Academy of Villains, lead 10 dancers in the show. They are all brilliant, accomplished dancers that have competed in many competitions including the hit TV show, "America's Got Talent." Several of the Villains play the B-boy whose role is to assist and dance in the show. Krystal and the Villains perform a shadow dance which the troupe is known for. The dance is performed behind a white screen with lights that shine to reveal silhouetted bodies and objects. It's mesmerizing to watch and adds a very hip and creative element to the show. They have created a shadow dance especially for "Magic vs. Science." Hours and hours of late night (and early morning) practices went into its creation. I know because I've been there throughout the process.
Pharside plays Rudy's rival, a twisted magician complete with a big black painted-on curly mustache, cape, and a top hat with a skull stenciled on it. They compete using appropriate antics to prove whether Rudy's science or Pharside's magic is superior.
DJ Swamp plays himself and is another unique part of the show. Swamp is an award-winning DJ who has collaborated with artists such as Beck, The Crystal Method, Ben Folds, and DEVO. Swamp does what he does best, spin records while looking strong and cool as hell. He had solos where he dazzles the audience with his tricks; he scratches records while sparks fly from his hands and he shoots flames of fire from his fingertip! Dangerous but captivating! Who doesn't love fire?
My colleague, Xine Zanillo, and I served dual roles in the show: we were on-stage mummy girls and backstage assistants to Rudy Coby and producer Bob Self of Baby Tattoo Books. Bob played an important role in organizing and sponsoring the show, and I was his right-hand woman. Behind the scenes, I kept track of everything related to the show. I set-up props, set up and took down equipment, bought supplies, and even made coffee. Xine was Rudy's assistant and, like me, had the same responsibilities helping to insure things ran as smooth as they could, and we did it all while wearing head-to-toe mummy bodysuits…just kidding.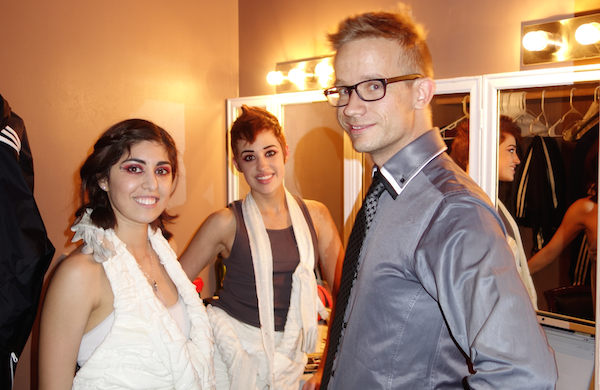 A very important team member and special friend/fan, Karl Neilson, came all the way from New Zealand! I thought it was so impressive for someone to do that. He served as Rudy's "secret agent," helping him with things like costume changes back stage.
I met Karl one evening at Rudy's huge space in L.A. ( known as 2517), where all our rehearsals took place. Rudy, Bob, Karl, Anthony Silva (our awesome videographer), Xine and others were working on shooting a promo video. The next night we got in a van that towed a giant Vans sneaker which was loaned to us by the CEO himself, Steve Van Doren! Inside the shoe sat Rudy Coby, being his hilarious and bigger-than-life self! We drove up and down Hollywood Boulevard with Rudy inside the shoe while Anthony filmed. At one point a drunk girl ran up to the shoe and climbed inside with Rudy but her boyfriend wasn't too happy about that. It was funny stuff, I have the video (lol). It was a blast! Getting ready for the show was all fun but now it was time to fit it all on stage at the Castle!
***********************************************************************************************
Rudy Coby's Magic vs Science opened on the evening of April 21st, 2014 in the Palace of Mystery, the largest theater at the Magic Castle. There were three shows a night, a total of 21 shows that were filled to capacity; everyone wanted to see Rudy Coby and his new cast of characters! The show was truly a success. After each night we would mingle with fans, associates of the Castle and other famous magicians who also performed that week. It was a dream to me, truly a magical time indeed that I'll never forget. I want to thank everyone who so warmly welcomed me into this wonderful world of performance and magic, I felt totally at home.
Always with pleasure,
Valeria Benavides