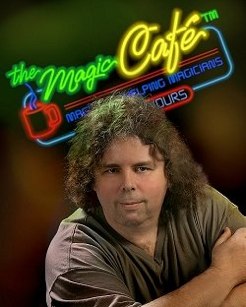 Unbearably tragic news from The Magic Cafe. A young magician posted a suicide note on the popular forum this weekend and shortly after, ended his own life.
Steve Brooks, the owner of the Cafe sent out a message to members today. Read the full text AFTER THE JUMP… below are the sections dealing specifically with the suicide:
—-
…However, truth be told I decided to send this message due to an incident which occurred in our community yesterday.
With the relatively recent arrival of interactive communications many people (especially vulnerable youngsters) have become instantly attracted to the idea that their lives can be made better in the online world as opposed to life at home.
The sad truth is that anyone who is depressed or has emotional issues at home is only bringing their baggage with them to the Internet.
That said, one of our troubled young people chose to post a suicide note here on the Café and on his Facebook page. I understand this same note was also posted on a number of other forums which this young man frequented. Shortly thereafter he did indeed end his own life. Out of respect I'll not give his name here.
How tragic. My heart goes out to his family and friends.
I was not aware of this incident until late last night. One of my moderators had deleted this members post (and rightfully so) and the information was given to me later via a private message.
Why this youngster chose to end his own life is anyone's guess and the real answers may truly never be known.
Could anyone here have really made a difference? I doubt it. Many of our Café members knew him personally and did their very best to help this young man who I understand had been troubled for quite some time.
Now, Magic Café members who interacted with him on a daily basis need to remember that we as a community are not to blame for this tragic incident.
This is not the first time we have lost members. Some have passed away due to natural causes, others by sickness or accidents. Life is made of meetings and partings, that is just the way of things.
However, this time was a bit different it seems – this time it was one of our own that chose to end his life and at such a very young age. This time it feels personal.
While I did not have the opportunity to read his last posts I understand that several members responded to his posts in a sarcastic and uncaring manner – how very sad that others would choose to be so unkind.
Perhaps this incident will make folks give pause and think about the words they choose to use. After all, if you do not have anything nice to say, perhaps its better to remain silent? Something to think about me thinks.
Finally, I'll close now by leaving you to consider these sage words from the philosopher Plato who once said; "Wise men speak because they have something to say; Fools because they have to say something"
—
Our thoughts and condolences go out to the friends and family of the young man who is tragically not longer with us. iTricks will withhold his name and the text of his suicide note out of respect to them.
Without being naive about the nature of forums, it's fair to say that even online we are affected by the company we keep. A dialogue that fosters "sarcastic and uncaring" responses to a suicide note might be something you want to think twice about being a part of.
Full text of the note AFTER THE JUMP… (more…)