Keith Jozsef stopped by the studios of Fox 2 News in St. Louis (the TV station that interviewed Kendrick McDonald recently) to help say goodbye to longtime on air personality Tim Ezell by cutting him in half. You can learn more about Keith at his website.
Hey iTricksters, just want to make it clear that if you comment on a story, you will not see it immediately. We actually go through comments to weed out all of the spam linking to shady off shore dating sites and such. It may be a few hours before they are published!
Speaking of TV, The Telegraph and Argus has new details about the next series of Dynamo: Magician Impossible. This installment will see the magician traveling all over the world, including the US and India, as well as guest starring members of Coldplay and One Direction.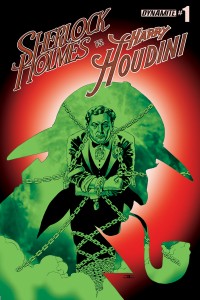 Dynamite, the company dedicated to keeping pulp characters alive in the pages of comic books, has recently turned its attentions to Sherlock Holmes and in a newly announced mini-series, he will square off against Harry Houdini. The project has been in the works for a while, but the recent court decision that Holmes is a public domain character finally cleared it for release. Look for Sherlock Holmes vs Houdini in October at your favorite comic book store. Who would think that a century later, Houdini would still be the hottest magician around?
Finally, speaking of Houdini, Potter and Potter Auctions will be holding an auction dedicated solely to Houdini memorabilia on August 23. Props, lithographs and a newly discovered Houdini scrapbook will all be on the block. The catalog is available for order now and you can get all of the details at their website.