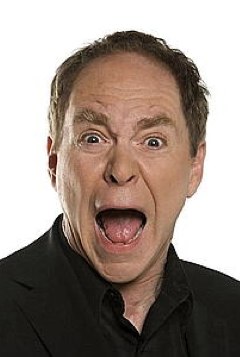 We are proud to welcome our dear friend Brian Brushwood as the iTricks guest editor all this week. His new eBook Scam School Book 1 will be released Pi Day March 14th. It contains material spanning 200 episodes of the hit podcast including original audio tracks and embedded video demonstrations. Head to ScamSchoolBook.com for all pre-order information.
Recently there's been a bit of viral buzz around this exchange between Teller and me from 16 years ago. I was a 19 year old kid starting out in magic, trying desperately to find my own voice, and Teller's fantastic essay is, without question, the reason I'm where I am today. If you haven't read it, I strongly encourage you to do so. Teller's wisdom will absolutely sharpen your magic presentation and inspire you to try for ever-greater things.
However, I've not previously given any advice as to how I implemented Teller's suggestions. Everyone's different, but here are a couple of the lessons I've learned in the last 16 years:
#1 – Don't wait. There's a million very good reasons why you should wait just a little bit longer before you start your next venture… Ignore all of them.
Don't wait to get started. Don't wait to pick up the phone. Don't wait to start writing new material. Say "Yes" and "Immediately" often.
You're going to find eight million excuses on why you should wait. Wait for them to call you back. Wait until you buy better props. Wait until you can hire a professional photographer. Wait until your new routine is ready. Wait until know-nothing doofuses who happen to have started their careers before you write you back with sage words of wisdom (that's me I'm talking about).
Don't. Wait.
The only thing separating you from having your best show possible is 10,000 hours of live performances. And while that sounds like an unfair, daunting amount of time and effort to put into becoming great, here's the twist: the time is going to pass anyway. You can either spend it working towards your goal, or waiting.
Whatever's wrong with your show, it's nothing that a thousand performances won't fix. So get out there now and start performing.
#2 – Find a safe place to be bad, so you can become good. Failure is an integral part of success, so figure out where you can be safely be bad immediately.
For me, it meant performing on 6th street and getting chased off by the cops. I could get six performances under my belt in one night, and I didn't have to ask anyone for the booking. The audiences gave me instant (and very honest) feedback, and occasionally I'd come home with 50 bucks in my pocket.
Before I started Scam School, I spent a year putting together travel videos of life on the road at www.bbotr.com. They weren't great (and nobody watched them), but it taught me how to tell stories and host in front of the camera.
Once Scam School became popular, I realized that I had zero experience keeping a live broadcast interesting… So I started doing the BBLiveShow, the "Best Worst Show on the Internet." We developed a very small audience and had a lot of fun… and the experience was absolutely vital to creating NSFWshow, iTunes' pick for a "Top Audio Podcast" of 2010.
Point is, no matter where you are, you've got more to learn. Don't just be unafraid to be bad… find the right venue to be aggressively, fearlessly bad so you can figure out how to become good.