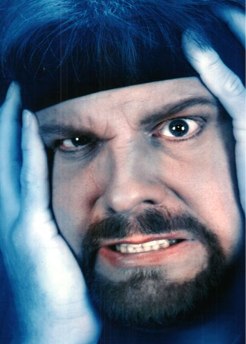 The Amazing Jonathan has ended his current run in Vegas leaving his gig at Bally's. Posting to his personal Facebook, Jonathan lays down an explosive rant about his former venue, the state of Vegas entertainment and… well… horny waitresses.
Here it is.
Yes, we have ended our run in Vegas after 13 years. That is plenty long enough. I get it.

It turned out the killer deal offered The Amazing Johnathan wasn't so killer. (shocker!). I noticed this very soon when I began dreading going to work each night. This was mainly from seeing a lack of advertising. Even after playing there for three months there were still more signs advertising acts that weren't even playing there any more. It was death for me. There were NO signs to even tell people where the room was.

Did they know they had The Amazing Johnathan, international headliner, playing in their hotel? I felt like an opening act that was accidentally double booked into a banquet room. It was like playing a mismanaged comedy club but without the horny waitresses & cocaine,
He goes on to lament about the good ol' days of Vegas entertainment when someone might at least be within striking distance when attempting to waste your time and money.
Sometimes I miss the old Vegas when they would, at least, look you in the eyes when they lied to you. I recall the days where the casinos would try to help you out instead of making everything so f——g hard. I'm used to a standard, although very low, that isn't here anymore. So, after asking nicely a dozed times, I just stopped showing up. I think they should have noticed by now.

It just felt right. It still does.

Thanks to everyone! What a blast!
For the record, we added the dashes in the f-word.
Jonathan has always been among the sharpest comedic minds in this industry for as long as he's chosen to grace the stage. We hope this isn't the last time he has a regular home in Sin City but no matter what we sincerely wish him the best.