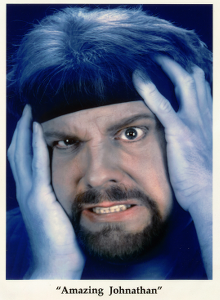 John Katsilometes reports in the Las Vegas Sun that the Amazing Johnathan announced he has been given a year to live during his portion of the ENTspeaks presentation Tuesday night. He told the audience that his heart is failing.
Amazing Johnathan, also known as Johnathan Szeles, retired earlier this year officially citing ill health. He performed his final shows at the Castle this summer, but many were expecting him to return to the stage at least occasionally. Unfortunately, the situation appears to be much more serious than understood by his fans.
iTricks has no more information at this time. Doubtlessly, many magician will want to help Johnathan in some way and all we can suggest is visiting his official website and buying a book or DVD.