DISCLAIMER: iTricks.com does not endorse or guarantee the following item nor have we been compensated to feature said item.
June Merlin was one of the many magicians' wives who was also an assistant; then she went solo!
June was already a successful model before launching her magic career. Her magic and good looks took her all over the world, including a spot on the famous 1957 Festival of Magic NBC special.
June Cochrane was performing years before she ever met medical student and magician Billy McComb. From about the age of three she was singing an dancing in talent contests. As a teenager, she started a modeling career and would turn from talent shows to beauty pageants. She is widely credited as holding the title Miss Ireland, with many reports saying she was crowned with the honor five times. This would not be possible under the current Miss Ireland Pageant, but by the time it started she was already working as a magician's assistant.
In the early 1940s, Billy McComb was a medical student by day and a magician at night. He recruited June as an assistant and taught her a few effects for the show. Using the proceeds from The First Book Of William, Billy bought an engagement ring and the two were wed in 1949. It was around this time that the couple also won the IBM British Shield for their act. By the time of the marriage Billy had also given up medicine to concentrate on magic.
Billy McComb saw the promise of television early and he and his wife made several appearances on British television. They were very well known so it was no surprise that they were chosen to appear with Bob Hope when he made his first post-World War II appearance in London. It was the veteran comedian who apparently convinced the couple that June was too talented to simply by Billy's assistant. Although she would continue to perform with Billy, June began to develop her own act as well. With assistance from Al Koran and Robert Harbin (and undoubtedly Billy), June created an act that would highlight her background as a model and beauty queen. Later June would repay the favor to Harbin by being the original model/guinea pig for his Zig Zag Lady illusion.
June's solo career started around 1951. Although she would eventually settle on June Merlin, The Bewitching Witch, she would also appear as June McComb and The Fabulous June early on. She would star in two British Pathé newsreels in the early 1950s, being billed as June McComb and mentioned as Billy's wife in each. In fact, magic magazines did not refer to her as June Merlin until about 1956. By then Milbourne Christopher had recruited her to be part of an international celebration of magic he was creating for NBC television.

June Merlin would appear alongside Sorcar, Robert Harbin and Cardini on the Festival of Magic episode of Producers' Showcase on May 27, 1957. The show, hosted by Ernie Kovacs, was actually broadcast in color and would be replayed in at least six other countries as well as repeated in United States. The show was one of the most ambitious magic specials of the early days of television.
The Festival of Magic was a fairly major event and, unfortunately, June did receive some criticism for her appearance. Variety wrote she was "an attractive girl with an amateur manner and ditto in her repertoire with white mice and rabbits." Robert Lund reported in the June 8, 1957 Abra that her magic was fine but her handling of the animals in her act "left something to be desired," especially in a country with millions of pet owners. Other reviews also made mention of her treatment of the animals in her act, probably because she picked up the mice she would transform and vanish by their tails!
In all fairness to June Merlin, the Festival of Magic appearance was not her normal act. June often appeared in a leotard. In fact, in her night club appearances she often started in an evening gown (complete with gloves) and removed an item of clothing after each effect until she was left only in her leotard! She and Billy had to design her princess and leprechaun themed act specifically for the Festival of Magic.
While in America June also appeared at a SAM convention, where she was much more warmly received. Upon returning to Europe she picked up her successful night club and continued to appear sometimes with Billy. The couple would also star in one of the UK's first "peak hour" magic television shows not aimed at children. Around 1961 magazines start reporting that she was performing a dove act using pastel colored birds. In 1965 she would win the "Maga D'Oro" in Italy in a competition against female magic acts from around the world. During the 1960s Billy and June were so popular that they even published The McComb-Merlin Newsletter to keep fans informed of their many appearances!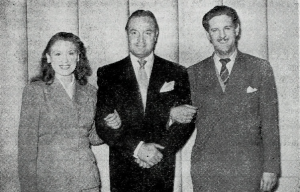 Around 1967 the couple separated, but there did not seem to be any particular malice between them. They had a son together (who had appeared in one of his mother's newsreels but would go on to work in television instead of magic) and Billy would later say he visited June in Spain at least once a year after her retirement. In fact, although it was widely assumed (and sometimes reported) the couple had divorced around 1969, when Julie Sobanski interviewed Billy about June he said they were still actually married (MUM, June 2008). Despite the separation, June Merlin continued to have a successful career in night clubs and aboard cruise ships until retiring to Spain.
After her magic career ended she enjoyed some success as an artist. June passed away in March of 2007, about a year after Billy.
Thanks to The Miracle Factory, the entire 1957 NBC Festival of Magic can be see on YouTube here.