Vaudeville historian Joe Laurie Jr. once wrote "Even today there are only two really top lady magicians — Dell O'Dell and Lady Frances."
Most magicians are at least familiar, if only in passing, with Dell O'Dell but Lady Frances is no longer a well known name. This is a tragedy because Lady Frances was a top tier magician, television pioneer and World War II veteran!
The story of Lady Frances seems to begin with Larry Hess. A vaudeville magician in the 1920s and '30s, Hess settled down in the Utica, New York area and took a steady job with the Post Office. He continued to play area shows, though, and even tour when possible. He also set himself up as a manufacturer/dealer with the Supreme Magic Service and wrote columns for the Linking Ring. He was fairly well known, as least by reputation, and apparently well liked in magic circles. When he married Frances Robinson on New Year's of 1935, it was mentioned more than once in the magic periodicals.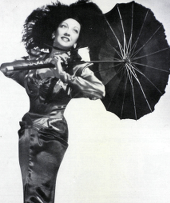 Ms. Robinson was a bit more of a mystery. She was assisting him in his act and, according to the Linking Ring, was an IBM member at the time of their wedding. Larry was in his early thirties when they married and at least one columnist would refer to Frances as his "child bride." Most stories about Lady Frances would say that she got her start in magic in the mid-1930s when she began assisting her (sometimes unnamed) husband. Bill Sacks, in a 1954 Linking Ring piece on her, maintained that Frances had spent some time as one of Blackstone's assistants and had been a part of Jack Gwynne's show as well. Other accounts mention that she was acting professionally in high school and had also been a singer with Columbia.
Whatever her experience, Frances Hess seems to have been a positive addition to Larry's show. They continued to perform locally, tour when possible and visit conventions until World War II. When the United States entered the war, Frances was among the thousands of patriotic young women to join the Women's Auxiliary Army Corps. Her service was noted by the Linking Ring throughout the was, just as they included reports of male IBM members in the military. By the end of the War, Francis had risen through the ranks and earned a captain's commission.
At some point during her wartime service, Frances met The Great Leon, who would serve as a mentor to her. He seems to have met her through the USO late enough in the war for her to have been promoted to captain. Leon would maintain that in general he was not impressed by female magicians, but this WAC Captain was different. In a development that seemed to surprise many magic columnists, Frances and Larry divorced shortly after the war and Francis started to tour professionally as Lady Frances (or Francis).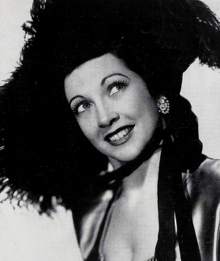 Her name would cause a bit of confusion over the years with the spellings Frances and Francis being used by various publications, with both sometimes appearing in the same magazine (sometimes both in the same article). Maybe this was because she used the stage name Lady Frances R. Francis, or maybe the stage name was a simple way to own both spellings! There always seemed to be a bit of confusion over the spelling, though, even during her marriage to Larry Hess when was often referred to as Mrs. Hess, Frau Hess or simply Fran.
Whatever the spelling, Lady Frances was a success. Throughout the post-World War II years, most mentions of her in the magic magazines are to report where she is playing, just played or where she visited on her way to her next booking. In May of 1948 Linking Ring columnist Phil Thomas, who called her show an "eye and ear appealing sequence of effects," mentioned her act consisted of cigarette productions, separating wine and water, parasol and silk effects and "a songful rendition of multiplying candles." Others praised her act as well, particularly the multiplying candles which often ended the show and the mix of magic with a little music.
In late 1948 or early 1949, Lady Frances' career hit a bump when she needed throat surgery. By May of 1949, though, she was back on the road and in South America. The Sphinx correspondent in Buenos Aires, Leslie Briant, wrote a glowing review of her appearances. He reported that she was indeed still singing during the act (in English and French) and that one fan was so taken with her he tossed a gold bracelet onto the stage as a mark of appreciation!
It should come as no surprise that Lady Frances was able transfer the success of her act from stage to the small screen. She made many television appearances, where her elegant evening dresses (many designed and created by her sister) and singing, gave her magic performances broad appeal. Frances was also quite taken with television and she actually started studying television production in the early 1950s. She was one of few women in the early years of television qualified to work as a studio director and one of the few directors able to perform in front of the cameras as well. Frances lent her expertise in the medium to other magicians with a Linking Ring column dedicated to magic and television. She even stopped touring for a time in the mid-1950s to host a cooking show in California. Lady Frances ended up trading her pots and pans back in for her candles and silks and returned to the stage.
She toured for another decade, but traveled much less after marrying "Tex" Bennett. She eventually gave up performing to turn her attention to the real estate and mortgage business. She would marry again, to historical novelist Dale Van Every. After his death in the late 1970s, Lady Frances decided to return to the world of magic and competed in the 1980 SAM Convention, winning an award for the best female magician. She also contributed a piece to MUM that year reflecting on her experiences as a WAC officer. She lived nearby her longtime friend Geri Larsen Jaffe and there are a few stories in the 1980s of the pair traveling to magic gatherings together, enjoying their golden years.