SPONSORED POST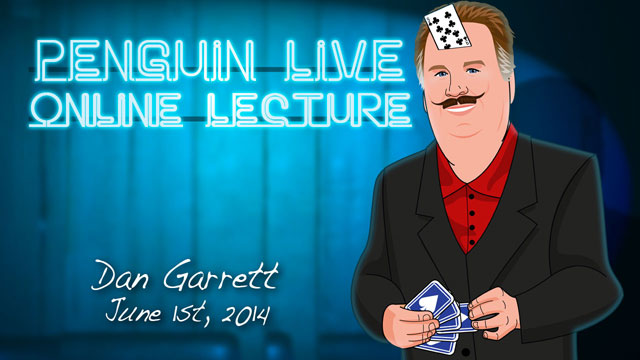 A brand-new lecture experience filled with magic from Dan's working repertoire of both past and present.
"Dan Garrett has one of magic's most entertaining and creative minds." -David Copperfield
"He truly is one of the finest practitioners in our art today. You will not be disappointed!" -John Carey
http://www.penguinmagic.com/p/4288
What will he teach?
The contents include mainly close-up magic and mentalism with coins, knives, paddles and cards. It has been rumored that there is even a grand illusion in this lecture.
Serious magic and comedy magic: there is truly something for everyone. Emphasis is placed on improving your performances and tapping in to the emotions and intellect of your audiences.
Magi-Fest Jest
A hilarious MC gag.
The GodMother of All Book Tests
Easy to perform and nothing to buy. 2 books, 2 participants, 3 minds, 1 thought.
Pocket Knife Act
A full close-up act for walk-around, no resetting needed. You'll love the surprise ending!
Up the Creek WITH a Paddle
See the classic paddle move in a whole new light. Dan will make you an offer you can't refuse.
Hello, Mr. Chips
Duke Stern's coin routine with special touches from Dan Garrett.
Desire Under the Elms(leys)
A strange and wonderful biological circus routine with a few acrobatic cards.
Epic – Marked Down
A mentalism act for close-up or stage that fits in your pocket and costs less than to make.
Two Foreseen
The miracle that everyone who witnesses this lecture is talking about. A double impossible CAAN (card at any number) with no memory work or technical skill required.
PLUS, there will be even more magic, some character impersonations, and he'll teach you about the awesome power of words!
He'll also show you how you can improve your performances by tapping into the emotions and intellect of your audience.
SUPPORT LIVE MAGIC. RESERVE NOW AND SAVE.
http://www.penguinmagic.com/p/4288
SPONSORED POST