SPONSORED POST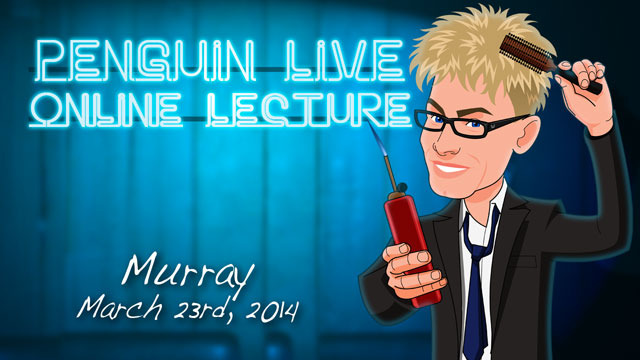 "You are in a CLASS of your own… A mark of true talent!"-Franz Harary
"GREAT JOB, YOU ARE A GREAT TALENT!"-Chris Davidson
Your act has good flare and style, in which Europeans really admire. You will have great success in the United States."-Tony Clark
"A delightfully skilled unique act!"-Norm Nielson
His exciting and unique "CD ACT" is a welcome and refreshing magical experience to any entertainment venue. He is definitely one of the few young magicians who will take magic boldly into the next century!"-Marvin Roy 'Mr. Electric'
"Murray has always been an innovator in magic. Whether he is causing CD's to appear from nowhere and commanding the stage with big illusions he never fails to please his audiences."-Milt Larsen Owner Magic Castle
Reserve your ticket now :
http://www.penguinmagic.com/p/4094
What will he teach ?
This will be a two part lecture.
Part1: Making Your Magic Competitive Yet Commercial
Part2: Building a Brand… PR with a Twist!"
Murray's Flip Over Production
This utility move can be used to instantly change a smaller object into a larger one, In a restaurant you can instantly change a matchbook into a drink coaster or a pack of Playing cards . He used it in his Signature 'CD FX Act.
Tic-Tac Lighter
Where an ordinary Tic-Tac Mint box full of mints turn into a working lighter. This is one of Murray's favorite routines he used to open with when he did walk-around restaurant magic.He will teach you how to make this at home and perform it with ease.
DVD Matrix
Four Broken pieces of a DVD are placed at the four corners of a close-up mat. Each is covered by a jumbo card. One by one the broken pieces collect under one card… then they restore to a WHOLE DVD!
He will be discussing and sharing how he took his CD Act and made it so competitive that he won over 24 international awards with it becoming a very commercial act that took him around the world for 15 years. He will be teaching people whether they do rope tricks, kids tricks etc… and how they can spin them from a normal regular trick to something memorable and commercial.
Then the last half of the lecture… which he is known for and he has never shared ANY of his Publicity Secrets publically until this lecture. He will be sharing thoughts and ideas for on how to get on TV, how to become memorable, and get in newspapers and much more.
SUPPORT LIVE MAGIC. RESERVE BEFORE SUNDAY AND SAVE
http://www.penguinmagic.com/p/4094
SPONSORED POST