SPONSORED POST
"There are two way to describe Jason England. Number one: He is one of the most talented, super knowledgeable, and handsome card men on the planet. Number two: Cheater Cheater pumpkin eater… WATCH HIM NOW! –Chris Kenner.
"Jason England has an encyclopedic knowledge of cheating methods and enviable skill with a deck of cards. Anything he has to say about cards is worth listening to." –Darwin Ortiz
"Undisputed master of cheating material." –Joshua Jay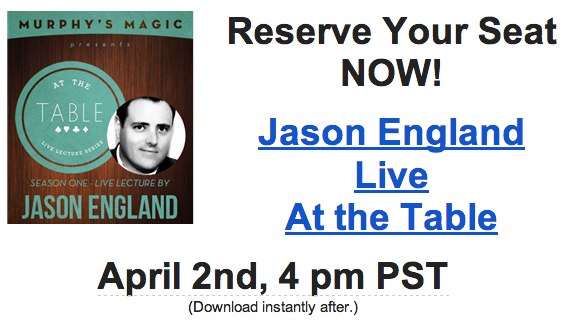 This is a DON'T MISS OPPORTUNITY to LEARN from CRAZY, NEW material by magic's leading expert on all things Erdnase and casino gambling/cheating with cards. Jason England is able to maneuver cards in ways you never even considered.
· PERSONALLY ASK Jason England about his 23 years of magic experience on film/TV, casino gaming protection lectures or history of marked cards/gambling collectables.
· LEARN from his real life experience performing for celebrities, politicians, corporate and in bars– as Jason has meticulously refined his effects to now TEACH YOU his secrets.
· BE the FIRST to learn TONS of NEW MATERIAL that has NEVER been seen before in prior lectures.
· SEE every angle as Jason teaches. Multiple angles to see every move.
What will I see?
· We have worked closely with Jason England on an "At the Table" experience that will showcase BOTH the classical magic he is known for, and the cheating techniques that make him the envy of card enthusiasts everywhere. To top it off, Jason will share an unpublished ending for Twisting the Aces by his close friend Derek Delgaudio, as well as a gambling routine that has never been performed or released.
o Poker Tells: Totally unpublished, Jason has asked that we NOT reveal what this effect is, because it will spoil it for you when you see. But we're VERY excited that he is performing AND tipping this for the first time.
o Grand Slam for Bro. John: You teach a spectator how to cheat at Bridge, and then they do!
o Instant Full House: A full house appears out of nowhere in a head to head game of poker.
o Triumph: He is teaching Vernon's Triumph effect EXACTLY as it appears in Stars of Magic, with the singular addition of Daryl's cutting display sequence.
o Dunbury's Delusion/Fingerprint Card Trick: This is a workhorse routine that Jason has used faithfully for laymen and magicians for more than twenty years.
o Much more! Including a Q&A session where YOU can ask whatever is on your mind.
Get a front seat, no travel– no worries! Attending is a no-brainer.
1. Buy your ticket to Jason England At the Table from your favorite Murphy's dealer. You will get an email confirming your purchase with a link to the lecture.
2. Watching is easy: On Wednesday, April 2nd, all you'll need to do is click the link in your welcome email and you'll be able to relax and watch the show. Jason will be ready to personally share with you his techniques, stores and experiences. The show starts at 4:00 PM PST (1:00 EST). Link will be working 1 hour before showtime.
3. Watch, learn and have fun for the next 2 hours! See unusual angles in high-def; chat with him and be a part of the magic.
4. Type in questions in a chat box right under the video of the live event. It is that easy!
5. Relive the experience by clicking on the download anytime you wish. Go frame-by-frame to see each slight, each move, and the detailed things you won't see just watching a DVD.


Not available during this time?
Buy your ticket anyway!
At the Table Live Lectures are available for instant download no later than 24 hours after the live event in your own personal library at your favorite Murphy's dealer. At the Table will allow you to be a part of DON'T MISS performances and tricks of top artists in the industry that will enhance your magic experience.
Save big today! Buy a season pass.
Get 4 lectures for the price of 2 when you buy a season pass!
For only $12.50 each ($49.95 total) you will get a virtual front seat for 4 lectures. You may buy the season pass at ANY time.
Purchase the season before, during or after the season starts…which locks in this special half price offer and ensures your seat at each and every lecture. Then review your favorite moments 24/7 any time you wish through your personal on-line download library. Never, ever search for any lecture notes again.
SPONSORED POST