Michael Lauck is a columnist for iTricks. His work appears on Mondays.
Lloyd E. Jones helped to shape modern American magic.
Even though Jones was not a full time professional magician, he led some of magic's most important organizations. He also was one of Genii's most prolific columnists.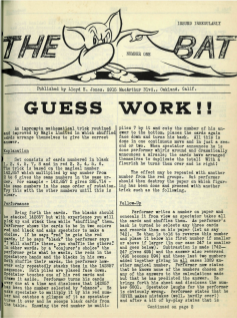 Lloyd E. Jones is probably best known today for being the man behind the specialty book publisher Magic Limited. Although he released several important books, including the Thayer Quality Magic series and Bobo's first book Watch This One, Magic Limited may be best remembered today for its house organ The Bat. At least eight times a year the eight page newsletter would deliver new effects, opinions and, of course, advertising for Magic Limited products for a quarter each or a dollar for a year's subscription.
It may seem a bit odd today to have paid for an advertising newsletter, but it was not uncommon at the time. The bulk of the pamphlet was actually devoted to things other than advertising and self-promotion. The front page. for example, was almost always a new effect. The latest issue of The Bat was also included in any Magic Limited order over a dollar.
Jones was not, by profession, primarily a writer, magician or editor but a pharmacist. For a time he operated his own pharmacy in Oakland but eventually became the chief pharmacist at a hospital. His true love, though was magic. He performed evenings after closing his his shop and was active in all manner of magic clubs throughout his life.
The Sphinx carried tricks contributed by Jones in the June and July, 1923 issues. At the time Lloyd was about 17 and a new SAM member in the Golden Gate Assembly (#24). A few short years later found him in Oakland and secretary of the Oakland Magic Circle. By 1931 he would be the group's president and active in the founding of the Pacific Coast Association of Magicians, which tied together many existing magic organizations on the west coast. He also served as the group's first president and as the associate editor of The Diebox, one of its early periodicals.
Although he retained his "day job," Lloyd Jones was a very active magician. In 1936 he won the Ray Gamble Trophy at the Fourth PCAM Convention for innovative card magic. His winning trick had a spectator sign a card only to have their photograph appear on the back of the card! It should come as no surprise that he was well know to most west coast magicians in the 1930's, including William Larsen who put him on the staff of his new magazine, Genii. In fact, Lloyd Jones released a book in 1935 called Meet The Boys Of The West Coast which profiled several PCAM magicians and shared some of their favorite effects.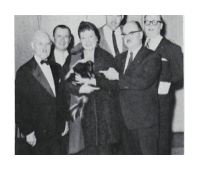 After Jones' experience with The Diebox and Meet The Boys, Percy Abbott had the pharmacist and magician review books for Tops. He quickly gained a reputation for candid, fair reviews and Ted Annemann even called him "the best book review in magicdom" in The Jinx #21. When Genii began publication in 1936, Larsen arranged for Jones to write reviews for the new magazine in addition to Tops. In May of 1937 Genii featured Lloyd Jones on the cover and printed his Gamble Trophy winning card trick. In the cover story Larsen called Jones a fine magician and funny speaker, writing "I know both Percy Abbott and I regard him as a distinct asset."
In early 1939 a small notice appeared in Genii stating that due to the overlap of reviews in Tops and Genii, Jones' Light From The Lamp column would be dropped. This may have foreshadowed some tension between Jones and Larsen but it is very hard to say. Years later, William Larsen Jr. would write that the column was discontinued due to Lloyd Jones' busy schedule. Just a couple of months after the column was dropped, though, Larsen Sr. took exception with something Jones wrote in Tops.
A magician named Mickey McDougall has written a book that many magicians regarded simply as an exposure piece on card tricks. Although many had congratulated Genii for not accepting McDougall as an advertiser, Jones wrote that he did not see the harm in it. Larsen wrote in the June 1939 Genii that Jones "took it upon his self to say that I am all wet in saying what McDougall has done will cause any harm. Frankly, I don't know if Jonsey does any card work or not. I've not see him do any. (Though he has a young nephew, Harold Agnew, who is one of the best card men in the entire business.) However, if Jones does do card magic I suspect he relies entirely upon Strippers and Svengali packs. Otherwise he would not have talked as he did." This may have been a minor disagreement or friendly rivalry but it does seem strange and harsh for Larsen to attack Jones' card work when Genii had published his Gamble winning card trick during its first year!
Later in the year a feud erupted between Lloyd Jones and Dariel Fitzkee after a bad review of Fitzkee's new show. Many people seemed to turn against Jones, maintaining that he was an old fashioned performer who did not understand or appreciate modern magic. Even though there were mentions of Jones and Larsen being at club meetings and shows together without incident (even being friendly), in Genii Larsen wrote sharply that "Fitzkee is a magician; Jones a druggist." It should be noted that around this same time Larsen routinely defended the merits of magicians who did not perform as their primary profession.
When Jones wrote in to Genii saying that it should be remembered that he saw an earlier version of the show in Oakland, not the more polished later show, Larsen chided him for the weak excuse. Bob Weill, who sometimes reviewed books for Genii (and would later feud with Larsen), wrote at the end of a trick he contributed to the June 1940 Genii that "(M)y only hope is that Lloyd Jones won't squawk because I had to use so may (sic) 'I's' in this explanation. But it's just the way I work it so to hell with him." Even if Jones' feud with Genii was more good natured than it read, some of the backlash leaked out of the magazines into the real world. At a public Oakland Magic Circle show in front of a crowd of about 800, a heckler accosted Jones during his act, proclaiming himself to be merely reviewing the performance and claiming (evidently falsely) to be named Fitzkee.
Whether the feud was real, play fighting between friends during the tense times before the outbreak of World War II or even simply a publicity stunt to help sell Tops and Genii, it seemed to be getting out of hand. During 1940 PCAM Convention Jones performed a new comedy act, complete with mock picketers protesting him. He walked away with the award for the best comedy act and the praise of almost everyone. In an early 1941 Linking Ring article Bob Weill even wrote that he had said something over the line about Jones and apologized. The next month he said that the spat was simply the two venting and that he and Lloyd Jones were better friends than ever because of it. The feud was over.
Meanwhile, Lloyd Jones did not let any of this interfere with his magical efforts. During the feud he started marketing Ruf Nuf, a card roughing fluid, through Abbott's. By 1941 he was trying his hand at being a magic dealer. This was the genesis of Magic Limited, which was best known as a publisher. However, in the early days he sold equipment and began to market effects. During these years Magic Limited produced many effects that were praised in Genii and other magazines, such as Scissoring Ceasars. In 1942 Jones bought Jerry Arends' magic store although he was already beginning to look more and more to publishing.
In 1943 Lloyd Jones published his first book, Call The Witness, to positive reviews and began to offer his newsletter The Bat. When announcing the new publication in Genii Bill Larsen wrote "it will achieve unprecedented popularity if Jonesey really expresses his own personality in it" and Dariel Fitzkee's review of it stated "The Bat should be a welcome visitor at almost any magician's home." Lloyd Jones made more news in the magic world later in 1943 when he purchased the Earl Rybolt magic library.
Books seem to have been Lloyd Jones' true love. By 1948 Magic Limited stopped selling apparatus and began to specialize in only books. He folded The Bat in 1950, after it had briefly even been the official publication of the Magic Dealers Association, which he had helped to form. Almost immediately it was replaced with Bat, Jr., which ran another five years but only produced 22 issues. In the 1970s Magic Limited would issue Son of the Bat, Jr. and then Bat Droppings.
Around the time that Bat, Jr. ceased publication Lloyd Jones returned to the Genii fold and again began to write their book review column, Light From The Lamp. He would continue to write the column until the 1980s. In 1981 he appeared on the cover of Genii for the fifth time. Testaments to him spoke of his humor, generosity and trusting nature. The cover story said that at one point he kept his magic stock in a storeroom at the hospital where he was chief pharmacist. If customers came while he was too busy at his day job, he just handed over the key and expected them to simply be honest and leave the correct amount of money when they left. The one person who ever took advantage of the situation was so overcome with guilt he sent Jones a confession and payment!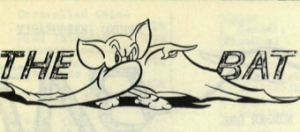 In May of 1984 Lloyd Jones shut down Bat Droppings and stopped writing book reviews for Genii. The announcement simply said that "Lloyd Jones is not feeling too well of late and will not be writing Light From The Lamp in the future." The very next issue carried word of his death at the age of 78. Although technically a pharmacist, Lloyd Jones had left his mark on magic. He had helped to found PCAM, served as its first president, had also been a SAM national president, helped to found the Magic Dealers Association, mentored younger magicians (such as Pete Biro) and published and edited and/or wrote over 50 books on magic.