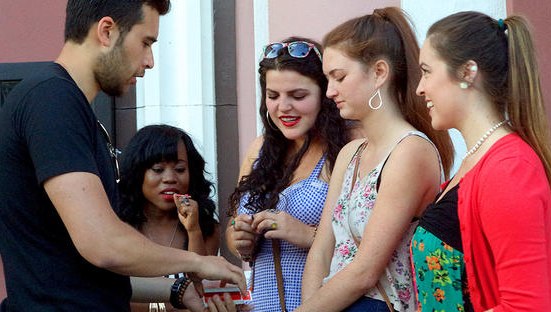 Dan White makes his return to television tomorrow on the Travel Channel. White previously pulled great ratings for Discovery with his special Supernaturalist. His new series White Magic bows with two episodes on Christmas starting at 9 p.m. ET.
Dan White is on a mission to wow the unsuspecting public with his riveting and mind-blowing street magic. Each week, Dan explores a new city and takes his tricks to the streets. At each place, Dan engages, challenges and astounds locals with his illusions. His tricks build over time, culminating in a final hyped-up, large-scale stunt that ties into an iconic location or event in the city, such as navigating a car through Hollywood Hills blind, or getting buried alive in a pile of broken glass in Orange County.
It's been a busy summer for White who's been on the road with Kanye West for the Yeezus tour. Make sure to gather round the television tomorrow and may all your Christmases be White.