SPONSORED POST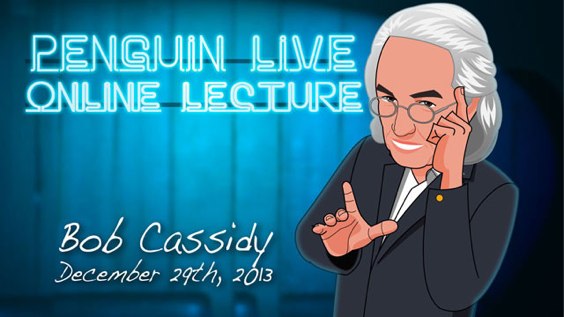 The LIVING LEGEND of Mentalism is coming to amaze us for Penguin LIVE's 100th LECTURE SPECTACULAR!
http://www.penguinmagic.com/p/3907
"It's not a gift at all," he'll tell you. "Any child can do it . . .With twenty years practice."
What will he teach?
Bob offers solid routines, interesting theoretical observations and straight-shooting practical advice. Even if you don't perform any mentalism at all, you will still learn a tremendous amount from his approach and professional insights.
In this Penguin LIVE lecture, Bob will be covering many of the effects from his new book, "The Artful Mentalism of Bob Cassidy, Volume 2: Fundamentals." He'll also be dealing extensively with Q&A routines, billet work, Fourth Dimensional Variations, Swami technique and modernized slate reading.
Bob will also go over The Ultimate Add-a-Number, Remote Viewing Variations, presentational techniques, Mentalism in the 21st Century, and just about anything else that comes to mind.
Bob's lectures tend to be very free form and are "lectures," not dealer demos or strict effect/method demonstrations.
Bob Cassidy is a repository of wisdom and this lecture will be packed with usable, real-world information that will resonate with magician and mentalist alike.
http://www.penguinmagic.com/p/3907
If you could ask ONE question to one of the world's most creative professional magicians, what would it be?
If you''ve never been to a magic lecture, there's never been a better time. Sunday December 29th at 7:00pm, we're live-streaming Bob Cassidy LIVE in a spectacular 2-hour interactive online lecture. Watch, ask questions and learn things you won't find in any book or DVD.
ATTENDING COULDN'T BE EASIER.
Purchase the Bob Cassidy LIVE "product". This is your ticket.
On Sunday December 29th, anytime before 7:00pm Eastern, click the "MyPenguinMagic" area at the top of the Penguin site. You''ll see the livestream appear 1 hour before showtime. At 7pm sharp, Bob will hit the stage and begin his JAM-PACKED professional lecture.
Sit back and watch over 2 hours of DVD-quality live streaming magic from the comfort of your own home.
Ask Bob questions and discuss the tricks DURING the lecture.
DON'T WORRY IF YOU MIGHT MISS IT.
Reserve your seat anyway. Within 24 hours of ending, you'll be able to download and/or watch the full lecture on-demand, and go over all the great routines and subtleties as many times as you want. It'll be waiting for you in your "MyPenguinMagic" area.
Magicians flock to see "workers" give talks. Why? Because these guys see and learn things that you won't find in any book or DVD. Yes, you'll be learning some incredibly powerful A-material, but the INVALUABLE stuff will be the insight you learn along the way.
This lecture is for everyone, from the beginner to the professional and for magicians and mentalists alike. Don't miss it!
"Bob Cassidy is one of the true geniuses of mentalism and one of the most influential. Period." -Jheff
SUPPORT LIVE MAGIC. RESERVE BEFORE SUNDAY AND SAVE.
http://www.penguinmagic.com/p/3907
SPONSORED POST