Michael Lauck is a columnist for iTricks. His work appears on Mondays.
In the 1940s, Gloria Jerome, barely out of high school, was the "It Girl" of magic.
Magic, as a community, tends to pride itself on knowing its history but Gloria was somehow forgotten. Today, I would like to change that by introducing you to the career of "the cutest little trick in magic."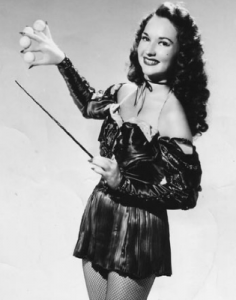 I hope you will indulge me for a second and let me break the fourth wall (to borrow a television term) and talk about this week's article. Sometimes people ask me about how I choose the articles I do for iTricks or if they might be selected by some else and assigned to me. One of the great things about writing these articles is that Justin and iTricks have given me pretty much free reign to choose topics. Sometimes this is great; for example, the last couple of weeks on spook shows were planned out in advance and so are most of the November articles. Some weeks, though, my life would be so much easier if I got assignments dispatched from the Article Department over at iTricks Corporate.
One of the really rewarding things about this arrangement is that it allows for a little flexibility, especially when I get obsessed with some idea or performer. That is exactly what happened this week when I was searching for magic related items up for auction. (Seriously, do you know how many non-magic items have the word magic in their listings?) As I was scanning through results I was struck by a photograph of a young lady smiling into the camera, sparkly top hat cockily perched on her head and a bunny puppet holding a card on one hand. The black and white photo looked like a promotional shot for an old movie, but an old movie I did not recognize (which is pretty rare, especially when magic is involved). I glanced up at the headline: Magician Gloria Jerome and Her Bunny Assistant. A couple of entries down the page was a second photograph of her, showing the magician flipping cards into a top hat.
Gloria Jerome? Why did I recognize that name? Did I even know it or was I just giving myself too much credit for my knowledge of magic history? I have looked into women in magic quite a bit over the last few months, but she was not a name that I remembered among the members of the Magigals. I grabbed a Milbourne Christopher book and hit the index: nothing. Was she just some flash in the pan? A pretty face with a few head shots and little else? No, I was convinced that I knew her name. I went to Taschen's Magic 1400 – 1950s (the newer, abridged cheaper copy that came out earlier this year; it is still a gorgeous book by one of my favorite publishers): Gloria Jerome, 522. Flipping to the page I knew why I recognized the name. Her small (not quite quarter of a page) photograph, dressed in a smart all white tuxedo, was opposite the very familiar full page shot of Celeste Evans.
If she was in Taschen's giant compendium of magician's posters and photographs then Gloria Jerome was more than just a pretty face that took a stab at a magic act. I returned the heavy book to its slipcase and headed back to the computer. As I wrote up the Magic on the Block entry for the two photographs, I made up my mind. It was Friday, I had no idea how much information I could find out about the young magician in these post-World War II era photographs but I ended the post by saying "To learn more about Gloria Jerome, visit iTricks on Monday!" I clicked on my bookmark for Ask Alexander and hoped that I could find out more about Ms. Jerome and her career.
Gloria was born August 10, 1922 to Arthur and Grace Jerome. The Jeromes had both been circus performers for the Ringling Brothers. Arthur, who was known to most as "Jerry," was a trapeze artist while Grace performed on the slack-wire. Her signature piece was juggling while balanced on the line. After Jerry retired from aerial work he put together a magic act. Billing himself as The Great Jerome, he set out to start a second career with Grace as his assistant. By age 5 Gloria was dancing in the act and learning a little magic herself. At age 14 she danced in the Texas Centennial Celebration, probably at Billy Rose's Casa Manana, the Texas nightclub whose opening was part of the festival. Gloria wanted to be a dancer, but her father advised that she learn some magic as well to set herself apart from the other dancing acts. Later in her life Gloria would joke that the two pieces of advice her father had given her were to never drink until the show is over and to get the show over quickly!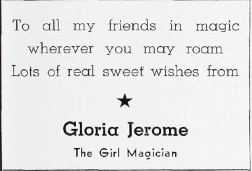 Taking her father's more constructive advice, Gloria Jerome put together a magic act. She managed to get herself attached to Music Corporation of America (MCA) and started her first tour as a magic act with them the day after she graduated from high school. Her first show was at the Park Plaza in St. Louis, where she was billed as "The Famous Girl Magician," which was noted in The Jinx and other magazines. Although it may have been the irony of a relatively unknown act billed in such a way that garnered the attention, it may have also been due to the fact that she was associated with MCA. The company had started booking and representing musicians and composers in Chicago in 1924 but had recently moved its headquarters to Beverly Hills to support their movie division. In 1940, when Gloria's tour began, MCA was one of the largest and most powerful (if not the largest and most powerful) talent agencies in the world. They had over 700 clients, most being high profile names, ranging from musicians and singers to film directors. An association with MCA was almost a guarantee of success.
It should come as no surprise, then, that success came fairly quickly to Gloria Jerome. Many reviews, however, concentrated on her good looks over her magic. Although the reviews were positive, they often included comments on her "streamlined chassis" or made jokes about seeing the act several times before realizing that there was a rabbit in it. A February 1941 Linking Ring mentioned that a reporter in the Fort Worth Press described her as the only "oomph" magician in the world. Magic magazines did mention that she had stage presence and real skill, though. The previously mentioned Linking Ring article stated "Her evening performance is the most amazing because on that occasion Gloria wears a costume so brief it could not conceal the most stunted rabbit. Yet she manages to produce fans, playing cards, eggs and what-have-you seemingly from nowhere." The June 1940 Linking Ring includes a mention of a visit by Gloria in Oscar H. Guetheil's Columbus ring report. He stated that "(H)er act consisted in using people from the audience, with clever patter. Small effects throughout, but handled dextrously."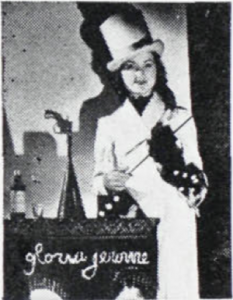 Gerrie Larsen profiled Gloria as a part of the Ladies Column in the October, 1940 Genii. She had not yet seen Gloria perform, but mentioned her work with eggs, ropes and handkerchiefs and included a small picture (seen to the right). The picture caused enough of a stir to be mentioned in other publications, including a claim that a "Gloria Jerome Please Visit California Club" had been formed. Gloria Jerome was undeniably attractive, and did sometimes wear but the shorter costumes of a dancer, but she also was known to work in a white tuxedo and heels. Dell O'Dell, while defending another female magician who had been criticized for her short and revealing costumes, mentioned Gloria and her costumes in a positive light. O'Dell pointed out that women's clothing did not have the convenient pockets and jackets of men's attire and that female magicians should use whatever advantages they could find in their clothing just as the men did.
Young, beautiful and talented, Gloria Jerome had a very bright future. Throughout World War II there are reports of her playing USO and camp shows. A 1943 Linking Ring report from the Memphis ring mentions Gloria playing the local bases and USO shows. It said "(I)t will not be long before Gloria will rank among the tops as a magician, not only on account of her personality and showmanship, but also her sleight-of-hand abilities." For the couple of years after the War there continued to be mentions of Gloria Jerome, "The Charming Little Faker," as she played in one town or another, stopped by this magic club or that shop. Then, about 1948, she all but disappears. For about a decade there is not a mention of Gloria Jerome in Genii, The Linking Ring or the other major publications.
It is very possible that she set off for Hollywood. There is not a mention of it in later profiles, but in the July 1958 Hugard's Magic Monthly there is an article in which Arthur Leroy writes of the demolition of a favorite theater and some of the acts he had seen on its stage. Arthur and Grace Jerome were mentioned and Leroy says that there daughter Gloria, who had started in their act, had been discovered by Hollywood while performing her own magic act. He says that she is working in films, still using her own name. IMDB has no mention of her, but this is far from conclusive evidence as its accuracy is questionable once one leaves the digital age. Gloria had a relationship with MCA, so a chance to crack Hollywood was a definite possibility. She was included in shows with major musical acts such as Harry James, Richard Himber (who was, of course, also a magician) and Tommy Dorsey so she would have been known to the major players in the entertainment field.
Shortly after Arthur Leroy's remembrance of her, she was again mentioned in the magic trades after appearing at the 14th Texas Association of Magicians Convention in 1959. From this appearance onwards she is again regularly found in the magazines, although mainly in Texas area magic club reports. She became an active part of the magic community, frequently performing or acting as the MC of shows. When she was featured at a 1988 meeting of the Dallas SAM Assembly speaking about her career, the report implies that many in the club were genuinely surprised as she spoke of performing with T. Nelson Downs, touring Europe and other aspects of her career. Though Gloria seemed well thought of and popular, it appears that some members were unaware of her earlier success.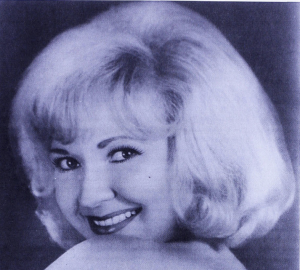 Gloria was featured in a Linking Ring member profile in 1993 that broadly covered her career, without mentioning Hollywood. It did say that she worked for a time as a magician for Chun King, the frozen Chinese food line founded by the same man that started Jeno's Pizza Rolls. She donned a black wig and appeared as Princess Fu Ling Yu, but it did not say when she played this part. It is hard to say, although in the late 1950s Chun King used the tagline "Menu Magic Bazaar" as part of their ad campaign and were active in the World's Fairs of the early 1960s. The very next year Gloria was again mentioned in the Linking Ring, but this time in a large Broken Wand article. Gloria Jerome passed away on May 15, 1994 after a prolonged battle with cancer.
Michael Claxton wrote of Gloria in one of his Women in Magic articles for the Linking Ring in 2007 and there is a picture of her in the Taschen coffee table book of magic posters. When I searched for her online the only picture I found was the reproduction of the photograph on ebay I included in the Magic on the Block article which set me out to learn more about her. She has no entry in Magicpedia and there is no footage of her on YouTube. I never met Gloria Jerome and I never saw her perform, I just saw an almost 70 year old press photograph of her and set out to learn more about her. It left me impressed with by a career that should not be forgotten. Very soon that photograph will be hanging in my office; that leaves one still up for grabs on ebay.