SPONSORED POST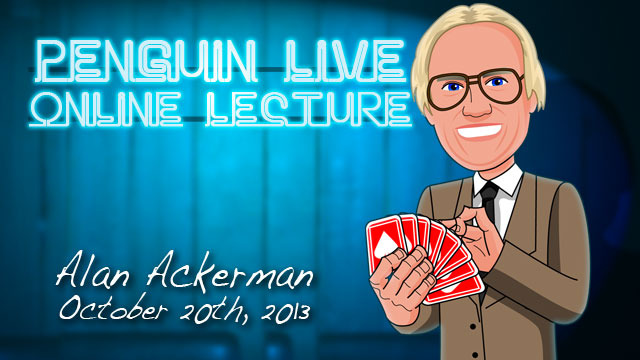 "Allan is the best card technician I have seen!" -Paul Harris
"Allan has a reputation for being one of the best card men in the world." -Steve Draun
"Allan is one of the cheaper better acts." -Jay Marshall
"I taught the kid everything he knows." -Ed Marlo
"You will learn much, even if you know it all." -Harvey Rosenthal
http://www.penguinmagic.com/p/3747
What will he teach?
Moves
The HP Add-on
The HP Center Load
The FANcy Pass
The A.I. Move
The HP Bottom Palm
The Oops Addition
Thirty Minute Memorized Deck & Bonus Cull
M & H Multiple Shift
Tweaking the Veeser
Bluff Shift
The Cliff Green Add-on
The Burnable Bottom deal
OPOS Count
Fingertip Rhythm
The Simulated Double Undercut
Ultimate Gesture Cut
Routines
Technicolor Splits
The Splits
A Cull for RB
An Invisible Card
Another Ride on Mass Transit
Predetermined Cutting
Impromptu Predetermined Cutting
Searching for a Thought
Impromptu Searching for a Thought
Another Interlaced Vanish
Never Ending Elevator
Royal Marriage Trilogy
Technicolor Progressive
Isolating the General
The World's Greatest Card Cheat
http://www.penguinmagic.com/p/3747
Who is he?
Get ready for an incredible journey into super-subtle sleight-of-hand and carefully crafted presentations that all of you lovers of card-magic are going to LOVE!
Allan specializes in sleight of hand magic with playing cards. He has written a series of books, and performed on several instructional DVDs that teach sleight of hand from elementary all the way up to advanced card work. Ackerman has also been a professor of mathematics at the University of Nevada, Las Vegas, and in addition to card magic, he also performs coin magic.
For the better part of the last thirty years Allan has shared ideas with some of the best card men in the world. These experiences, together with his own research, have resulted in a collection of original and useful material which he offers to the magic fraternity. Allan has lectured extensively all over the US and Europe. His lecture consists of material drawn from his lecture notes and DVDs. You will learn new and sophisticated techniques and applications suitable for professional performances.
He has studied under Ed Marlo, the famous Chicago cardician, and now lives in Las Vegas. At the Community College of Southern Nevada he teaches MCSE, MCSA, Net+ & A+ Certifications.
If you could ask ONE question to one of the world's most creative professional magicians, what would it be?
If you''ve never been to a magic lecture, there's never been a better time. Sunday October 20th at 7:00pm, we're live-streaming Allan Ackerman in a spectacular 2-hour interactive online lecture. Watch, ask questions and learn things you won't find in any book or DVD.
ATTENDING COULDN'T BE EASIER.
Purchase the Allan Ackerman LIVE "product". This is your ticket.
On Sunday October 20th, anytime before 7:00pm Eastern, click the "MyPenguinMagic" area at the top of the Penguin site. You''ll see the livestream appear 1 hour before showtime. At 7pm sharp, Allan will hit the stage and begin his JAM-PACKED professional lecture.
Sit back and watch over 2 hours of DVD-quality live streaming magic from the comfort of your own home.
Ask Allan questions and discuss the tricks DURING the lecture.
DON'T WORRY IF YOU MIGHT MISS IT.
Reserve your seat anyway. Within 24 hours of ending, you'll be able to download and/or watch the full lecture on-demand, and go over all the great routines and subtleties as many times as you want. It'll be waiting for you in your "MyPenguinMagic" area.
Magicians flock to see "workers" give talks. Why? Because these guys see and learn things that you won't find in any book or DVD. Yes, you'll be learning some incredibly powerful A-material, but the INVALUABLE stuff will be the insight you learn along the way.
This lecture is for everyone, from the beginner to the professional and for magicians and mentalists alike. Don't miss it!
SUPPORT LIVE MAGIC. RESERVE BEFORE SUNDAY AND SAVE.
http://www.penguinmagic.com/p/3747
SPONSORED POST