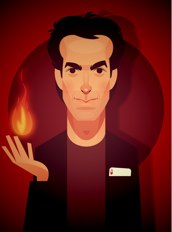 In a way, you wonder why it didn't happen earlier.
Always in love with films and filmmaking, notorious cinephile David Copperfield is finally opening his own production company. Red Safe will eventually produce feature films according to a write up by trade chronicler Variety.
In Copperfield's view, making movies is not a transition but something akin to realizing a childhood dream and a parallel form of magicmaking. "Cinema is a magic effect," says Copperfield, whose study of the histories of both film and magic led to the creation of his museum. "The movies started as a trick. It was a trip to the moon, a journey to Hades. The illusion of the cinema became the medium. That's why we are here talking."
Very curious to see how this progresses, as Copperfield rarely does anything on a small scale.