Michael Lauck is a columnist for iTricks, his work (usually) appears on Mondays.
Celeste Evans is one of the most successful and well traveled women in magic.
Last week iTricks spoke to her about breaking through the boys' club of magic and finding success in New York and on television. This week she talks about her international stardom and even offers some advice to today's magicians.
Born in a small town in British Columbia just north of the Washington State border, Celeste Evans was initially drawn to magic partially because she was told it was something girls simply could not do. Dedicating herself to practice, she studied magic on her own for years. As a young woman, she moved to Vancouver for a job and was finally able to acquire sleight of hand lessons from local magic store owner Jon Kirby, although the local magic club was for men only. Shows around town led to an Asian tour of Canadian military bases, more touring and eventually her first television show. By 1957, Celeste Evans was not only doing nationally televised American shows such as To Tell The Truth, she was featured in an important SAM show and even landed on the cover of Genii.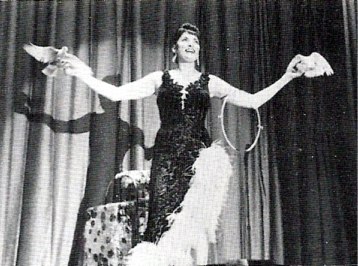 Although Celeste was finding success in New York, she was still running into resistance from male magicians. The climax of her act, and really her signature piece, was a series of dove productions under black light. Not only did she have specially designed costumes and make up that showed up under the lighting, Celeste had devised a way to safely dye her doves so they would "pop" under the black lights as well. "It was what really pushed me up the ladder," she recalled. Despite the fact that male magicians were actively barring her from the magic clubs and trying to keep her from getting the best gigs, they were also extremely interested in the secrets of her dove routine. "I had not one woman magician come up to me and ask "What's your formula for black light birds?'" During her phone interview with iTricks, Celeste revealed one of her secrets to getting hired over other magicians. While other magicians would get a set of promotional pictures taken and
used them for years (sometimes decades), the booking agencies received new photographs of Celeste Evans wearing one of her fabulous costumes every six months. "Sure I got the jobs," she said, "I had the materials to sell me."
One of Celeste's first big opportunities had been a tour of Asian military bases for the Canadian Legion and throughout her career she continued to tour the world for various organizations such as the United Nations and Special Services. She was even part of President John F. Kennedy's Cultural Exchange Tours. These shows allowed her to entertain not only military forces but everyday people and even royalty. From frozen troops in Greenland to the King of Thailand, Celeste and her doves entertained all over the world. Her autobiography, I Can Still See Me, is full of stories of her adventures from Mt. Everest to the Playboy Clubs. Part of her reason for writing the book was to inspire all the young ladies interested in magic. She actually planned the book to be easy to read so that aspiring magicians would be able to get as much out of it as seasoned veterans. "I kept it pretty simple," Celeste told iTricks. "There's a picture on every fourth page so
it'll keep you up all night!"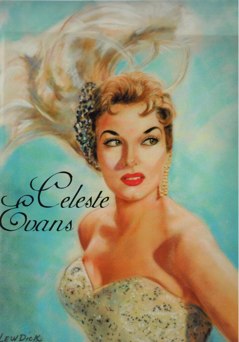 In late 1962, Celeste Evans married Chicago-based Harry Breyn, owner of Harry Breyn Management. Married life, and the demands of a growing family, kept her from making globe trotting tours, but she continued to work regularly throughout the 1960s and '70s. When Harry passed away in 1984, the task of running the family's entertainment management business fell to Celeste. Magician turned manager and she successfully ran the company for almost 20 years.
Today you will find Celeste Evans enjoying the fruits of her long and successful career. She was inducted into the SAM Hall of Fame in 1998 and was also awarded the AMA Performing Fellowship in Magic in 2009. "They call me a living legend," she told iTricks, adding "I call myself a museum relic." Several of her props and costumes are held by museums and private collectors. David Copperfield, for example, owns the dove table featured in her Genii cover. In addition to her autobiography she also compiled Has This Ever Happened To You? a book of magical "faux pas." Both books are still available from her website www.celesteevansmagic.com. Copies of I Can Still See Me are signed and include an autographed photo as well. She also still appears at magic conventions, meeting other magicians and signing her books.
Given her successful career as a performer and experiences running an entertainment management business, Celeste Evans is a wealth of knowledge for today's performers. When iTricks asked about the state of magic today, she was quick to mention that she does not like the pyrotechnics used by some performers today. "They're imitating musicians with the explosions and the fire and the whole thing. I don't like the pyros, they're too dangerous." She also voiced some strong feelings about performers who set dangerous examples for children.
Placing herself in the shoes of a young performer starting out today, Celeste's first suggestion was to keep the equipment light, especially given today's airline travel restrictions. "I'd learn sleight of hand completely," she continued, "because you can go anywhere with that." Even though she has appeared on television numerous times herself on everything from Barbara Walters' Not For Women Only to The Arthur Godfrey Show, she councils magicians to avoid shows such as America's Got Talent. "Shows like that, that embarrass you if you're not a winner, they're a no-no in a person's career if you are just starting out." Instead she suggests trying to secure booking with the agencies that book tours for soldiers overseas, such as the USO. She also warns that you have to make sure you are good enough before applying! Celeste told iTricks that anything that allows you to do multiple shows, such as a county fair, is a great experience because "it lets you work
the kinks out."
Celeste Evans has come a long way, literally and figuratively, since her days of practicing magic with a single deck of cards. Breaking through the boys' club mentality of the magic world, she built and amazing career and continues to inspire magicians of all ages and both sexes today. She may joke that she is a museum relic, but she truly is a living legend in the world of magic.