Michael Lauck is a columnist for iTricks. His work appears on Mondays.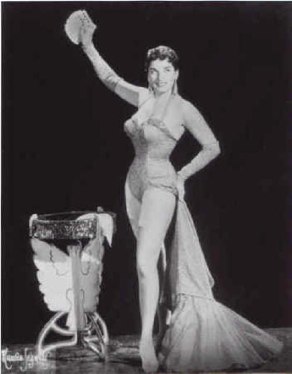 Celeste Evans is a living legend in the world of magic. She describes herself as "a museum relic."
One of the most successful women magicians in history, Celeste spent the 1960s touring around the world literally performing for royalty. Now retired, she was good enough to talk to iTricks in this two part interview.
In many ways, 1957 was the break out year for Celeste Evans. In February, Hugard's Magic Monthly carried two important mentions of her. First, her recent appearance on the television show Circus Time was discussed. It was not her first TV show, nor would it be her last, and the recap speaks positively of her finale with silks and birds. More importantly, though, is the coverage of the SAM Parent Assembly show on the 15th, which she opened. "Celeste Evans opened the show with her sexy sorcery" the report starts, describing her as an "attractive, personable brunette" who showed "solid skill." Again, the highlight of her performance was her finale. "She whipped off her skirt for a flashy finish in a tight-fitting costume with stockings and long gloves standing out via black light. Silk juggling and colored dove productions brought her a solid hand."
The show was an important one and Celeste received a mention in Genii and was featured in one of the six photographs carried by The Linking Ring of the event. She was also featured in one of the photographs in the MUM coverage. Sam Aaronson, in the magazine's write up of the show, said "A new element had been added in magic entertainment– emphasis on feminine charm with a frankness and joyousness that offended nobody's sense of propriety." Later that year national TV audiences would again see Celeste Evans, this time escaping from a straight jacket in record time, on the hugely popular game show To Tell The Truth. She even graced the cover of the August issue of Genii. Celeste Evans had arrived in the magic world!
Celeste Evans had actually arrived in the the world (White Rock, British Columbia, Canada, to be exact) very late on the night of December 31st, 1931, although she was initially called Margaret Ruth Stewart Evans. She was known to friends and family as Ruth or Ruthie as she grew up. In her biography, I Can Still See Me, see recounts that at the age of nine she knew what she wanted to be when she grew up. While playing on the beach she saw two older boys, twin brothers named Don and Ron Cornett, doing silk magic. As they tossed around a silk, knots magically formed. The magic bug had bitten young Ruthie. She asked one of the twins if he could please show her how it was done but he not only refused, he snapped at her she could not do magic because she was a girl! This remark made sure that the magic bug not only bit, it locked its jaws tight. "That started me off," she recounted in our conversation. "Boy, you don't say that to me!" Nine year old Ruthie
Evans swore to herself that she would learn to do that trick if it took her ten years… and years later she would open her acts with it.
Sending away for a magic book, its title now long forgotten, with money she had earned selling berries, Ruth Evans began her study of magic. Alone in her loft in the family's cabin, she became attracted to card magic. She recalls in I Can Still See Me that she only owned a single deck of cards. She would regularly wash them with gentle laundry soap and then carefully dry and powder the deck to keep it in top condition. She would continue to study magic on her own until she got a job in Vancouver as a stenographer. The larger city had a real magic store and the opportunity for proper sleight of hand training from its owner Jon Kirby. Although she was able to meet other magicians, Ruth Evans was barred from joining the local magic club because it was for men only. This did not keep her from jumping into a career in magic when the opportunity arose.
After a few misadventures and the decision to rename herself Celeste Evans, which seemed more glamorous than Ruth, local lodge and business club gigs gave the budding new magician much needed experience and a little extra income. Several Canadian Legion engagements led to an invitation to join a 1953 tour being sent to entertain Canada's fighting men in Asia. Although she had never even flown before, Celeste soon found herself on a prop plane bound for Japan (with a stop in Alaska for fuel). The little tour entertained at Canadian and American bases throughout Korea and even took advantage of a ceasefire to travel north of the 38th Parallel. Although a tour of the central battlefield in the emerging war between Communism and the West would be enough to dampen many budding careers, this was only the first of many international tours for Celeste Evans.
After returning to Canada, Celeste toured various mining camps and appeared on her first television program, a Canadian show called Pick The Stars that was shot in Toronto.
"They put orange make up on you at that time," she remembered, "because it was in black and white… It was weird because they put this thick orange stuff on you, and you didn't even recognize yourself when you looked in the mirror, but apparently television faded you out so much." In addition to the uncomfortable makeup, the cameras required that everything be shot in front of extremely bright, hot lights. "It was terrible, it really was," Celeste remembered, "but with the thick stuff on your face you didn't sweat through, it took a while to sweat through that stuff!" It may have been terrible in hindsight, but her experience on Pick The Stars was the first of many TV appearances. It also encouraged her to move to the East Coast to further her career.
There was success for Celeste Evans in New York, but it did not necessarily come easy. "I had to fight my way through all the men magicians," she recounted to iTricks, "because the magic clubs would not let women in so I had to fight my way through and ignore them and ignore all the dirty rumors about me. You know (they were) trying to get me out of town, I was taking their jobs away from them. Naturally, I was. I was a novelty. I was one of the very few lady magicians at that time, in the '50s, working. I was a novelty so I was in demand. I was taking away jobs from the men magicians, especially in New York and they just tried to get me out of town. But I was stubborn, I wouldn't leave."
Celeste Evans may have found initial success because a female magician was a novelty, but she built a career by presenting quality magic. Next Monday we will present part two of our interview with Celeste Evans. She will discuss her global travels and offer some advice for new magicians. You can learn more about Celeste, and order a copy of her autobiography I Can Still See Me, by visiting her website www.celesteevansmagic.com.