Michael Lauck is a columnist for iTricks, his work appears on Mondays… usually.
Using rhyming patter and customized props, Dell O'Dell rose to the top of the magic field.
Starting out in traveling tent shows, Dell O'Dell became a successful vaudeville magician. She then went on to nightclub success, write prolifically and pioneer magic on television.
Born Nell Newton, Dell O'Dell would eventually legally change her name to her stage moniker. She also seems to have shaved a few years off of her age, too, as research on the Houdini Museum's Dell O'Dell tribute site (dellodell.com) by Dick Brookz found that she was born in 1897 in Wisconsin, not 1902 in Kansas as was widely reported. Nonetheless, she was exposed to a life of show business at a relatively early age. Her father ran a popular tent show that traveled throughout the midwest. As a youngster, Nell even exhibited a five legged calf with nine tails. When not traveling with the family's show during the summer she attended a convent school because her parents reportedly did not expect her to follow them into show business.
Despite her parents' plans, Dell was intent on learning as many of the acts in the family's tent show as she could. Wire-walking, acrobatics and magic were among her early pursuits. In fact, her father had performed a magic act before starting his own show and almost always had a magician on the bill. Even with this pedigree, Dell's early success came as an acrobatic and strongwoman (although some of the photographs collected by the Houdini Museum suggest that she may have been part of the "girlie shows"). Billing herself as "Miss Physical Culture," Dell performed feats of strength and grace, including balancing furniture on her chin. She soon left the world of tent shows behind and jumped into vaudeville.
George Boston's Genii obituary of Dell says that she became interested in magic again while on the vaudeville circuit. Encouragement from Mike Kanter and Jack Channin led to her launching a comedy magic act which quickly caught on with audiences. In the October 1929 issue of Linking Ring, Max Holden first mentions Dell O'Dell in his column on New York magic. Merely calling her a new comedy headliner in that first column, the next month he fills in that she is on the RKO circuit and about to start a six week turn in Boston. He further raved "Miss Dell O'Dell is the name of the new comedy magician and she has one of the funniest acts of comedy magic ever."
Reports of Dell O'Dell's activity continues throughout the 1930s. In the February 1936 Linking Ring Holden calls her the busiest magician in New York and a couple of months later mentions that she is playing Canada while her husband, Swiss born juggler Charles Carrer, is still with Earl Carroll's Follies. There is a report that she is planning to open her own magic nightclub (this does not seem to materialize) and she was prominently featured Genii's July 1939 Paging the Ladies column after playing a show with Geraldine Conrad. Around this time Max Holden reported that Dell had adapted her act so that all of her patter was delivered in rhyme. This would become a signature trait of Dell O'Dell's magic for the rest of her career. At the end of the year she even graced the cover of The Sphinx.
Most of the reports about Dell O'Dell offstage mention her graciousness and generosity. She and Carrer hosted many dinner parties and functions in their home (one of her obituaries says that a large convention could be held of performers for whom Dell had cooked dinner) and it was even mentioned that she was quick to pick up the check when out with others. Throughout her career she avoided scandal and argument (although magicians who mistreated their animals reportedly found that they would have to deal with her), with the exception of a small run in with Ted Annemann's Jinx. It was mentioned in a Jinx review of her show that she could perhaps do a few "bending exercises" and she took exception to it in her Tops column. Annemann admits that chivalry should have forced him to cut out such a remark, but the column's contents were controlled entirely by the reviewers. Chivalry did not keep him from pointing out, though, that her article used I, me and my no less than 43 times! A couple of issues later (Jinx 139) he would also mention that her new tagline ("Don't fool yourself – That's my business") had been used by Russell Swann for 15 years although Annemann states Swann does not mind and there are no other reports of any conflict between the two magicians.
It is quite possible that she bought the line from Swann. Dell O'Dell was known to spend quite a bit on writers for her act, with the patter often costing more than the props. She seemed to firmly believe that it took money to make money and spent on her act and its promotion. Props were customized (usually by her husband who was a skilled craftsman) to not only "fit" Dell better and run more smoothly but also to match the show's stage dressings. She also invested heavily in costuming. Her collection of props was so massive that the couple purchased the home next door simply to serve as a workshop and storehouse for magic. It was said that she could change her act weekly and play for months in a single venue.
Her largest investment, though, may have been in promotional material. She was one of many magicians known to use "Holetite" pencils with her booking information printed on them. The pencils, which had a metal endpiece with a loop of cord on one end, were slipped around a buttonhole. The challenge was to figure out how to remove them without cutting the cord. In 1947 it was reported that with her most recent order of 50,000 Holetites meant that she had used 500,000 of the advertising giveaways. She also started a "Friends of Magic" club in the early 1940s. For a dime fans received a membership card and a 32 page book of gags, stunts and magic tricks. She also often performed using her own promotional "Dellar" bills instead of real money.
Despite the fact that she was constantly booked to do live appearances, Dell O'Dell moved onto television in 1951. Her show was first shown locally in California but was eventually shown coast to coast. It was originally meant to be a short run starting in September but in October the run was extended (sending her back to her New York home for more props). At least one of her obituaries would state that years before this she was the first to perform magic on television in New York. Dell and Jack would eventually purchase a home in California and even buy Abbott's magic shop on Sunset Boulevard in 1953. As the weekly show ran she continued to make live appearances.
Even though the Dell O'Dell Magic Store was sold to Al Stevenson in 1956, she continued to perform, produce effects and write. After her column in Tops, she penned a column (Dell-ightfully) throughout the 1940s and into the early 1950s for The Linking Ring and was listed as an Associated Editor of The New Conjuror's Magazine. She also wrote the books Presenting Magical Moments and On Both Sides of the Footlights. An avid photographer, she also provided pictures of shows and conventions to magazines.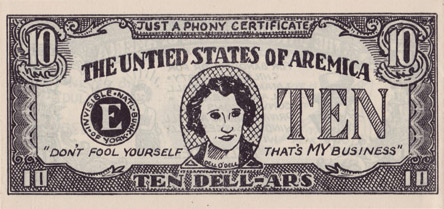 After being diagnosed with an incurable form of cancer, Dell O'Dell continued to perform. She even played hospital charity shows during the four years she kept the news of her own diagnosis a secret. Dell O'Dell's final show was only about 48 hours before she passed away on February 5, 1962. Because she donated her body to science, there was no broken wand or funeral. Perhaps the most fitting tribute was the full page of the April 1962 issue of Genii taken out by Charles Carrer to thank the magic community for the "kind letters, wires, call and other forms of condolences." In it he said that Dell O'Dell's three loves were her home (which he said he was fortunate to share), all things magical and her friends.