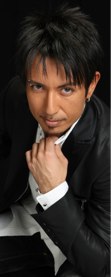 Brazil, so hot right now. Brazil…
Not only was the country just in the sports spotlight for hosting the World Cup trail run known as the Confederations Cup, it will host the real thing next summer. Then just when you thought the party was over, Brazilians will gear up for the Summer Olympics in 2016.
And now they can add Cyril to the expected guests. The magician will film his new series Viva Magic in Brazil for AXN.
The 6×30′ series will follow Japanese illusionist Cyril Takayama with hidden cameras as he surprises unsuspecting locals and tourists in Rio de Janerio with magical moments.

The series will air on AXN in South-East Asia and on AXN and AXN Mystery in Japan. It will be distributed internationally under the title Magiculous.
Sound be something to look forward to.