We recently ran an article on Fetaque Sanders, a magician who impressed everyone he met with his showmanship and style. Although Fetaque did write a few booklets (mainly on advertising and promoting shows) and released a few tricks he was not a prolific contributor to magazines. In September of 1938, though, The Sphinx did publish a short article by Fetaque Sanders that urged magicians to examine their act and try to determine their personal character.
75 years later, it still seems like really good advice. What follows is a reprint of Fetaque Sanders' article "What Part Do You Play?" It is one of the many gems you will find among the pages of The Sphinx, which has recently been collected and released in a digital format by the Conjuring Arts Research Center as The Ultimate Sphinx
What Part Do You Play?
By Fetaque Sanders
Have you ever stopped to analyze your act, that is, the part you play? What promoted you to stand before the public and demand the Goddess of Magic to serve you, calling yourself a magician? I have and it has caused me to debate whether I'm really a magician or an ordinary entertainer. Again, I've wondered if I was an entertainer or just an enthusiast. After ten years of silence and observation. I want to make my assertation.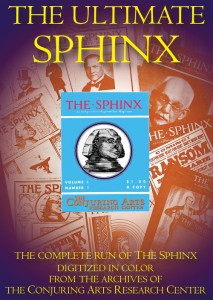 Back in the days of Anderson, "The Wizard of the North," someone, in speaking of his performance, said that "He brought the art of poor acting to a high perfection." It's sad for magic's sake that poor acting can no longer be accepted as acting.
Robert Houdin said, "The magician is an actor who plays the part of a magician." We have a two-fold part to dramatize; the deception and the character. When the magician puts the accent on the deception, he becomes a manipulator. When he over-dramatizes himself, he is called a showman.
If magic is an art, you must have an idea to express the theme of your program. Does it have a dramatic plot?
In the arrangement of designing of your program, the following questions should be considered: What is my fondest enjoyment (second to magic)? Maybe it's swimming, poker, golf (Walsh beat you to it), hunting, painting, cabinet making or helping the wife around the house. Do more people give you their attention when you talk on serious subjects or current events, or when you tell a funny story or "crack" at the other fellow?
In short, I wish to suggest that more magicians find and develop their own line of least resistance. Design your tricks to suit this character and acting will become easy and natural. And by all means, make yourself interesting to the other fellow.
Edgar Bergen is an example. He does little more than deceive his audience by keeping his lips still (sometimes) and crack a variety of jokes. Charlie, the first time I heard him, was "a sick man" and telling his troubles to his doctor. It was interesting and, above all, so natural. Bergen is a success.
If magic is going to continue to grow, performers of the art will need more ideas. Complaints have been made that there are not enough new tricks. So more are invented, many of which have been proven inferior to the old principles. We don't need new tricks, but new ideas.
It is a difficult task to expose magic. Of course you say, "every week some paper tells how a trick or deception is accomplished," but not one word is said about the manner in which the trick is put over. There is the real secret of magic. John Mulholland said that this element contributes eighty per cent to the magician's success.
What is the difference between a magician and a trickster? The magician is an actor that does tricks and a trickster is a fellow that does tricks and does not act. Tommy Martin recently said something to the effect that when you can stand before an audience and held their attention without doing a trick, you could do well with magic as a business.
In developing naturalness in your manner, don't make the common mistake that I cured myself of. May I tell you my story? A few years ago, I was a Junior High School student and received a call to do a matinee in a large high school. It was a "big thing," that "long awaited break." I could count my bookings up to that date on my fingers. I selected my best tricks and rehearsed them every day until the last minute. Everything was perfect (thank Tarbell). I was introduced to the students by the principal as a MAGICIAN and when the curtain went up everyone applauded. (I thought it was my knees.) In spite of my nerves, I walked briskly to the center of the stage and really did magic. The show held their attention. I didn't drop one billiard ball and they bit at every sucker effect. I specialized in SUCKER EFFECTS! While packing up the principal came back of the curtain. I didn't ask him away as he wanted to express his overburdened enthusiasm and satisfaction with my performance. He said, "Young fellow, I'm glad that I had you over. You provided the very thing that my students needed. They felt that they knew everything. You really brought them down to their size. You are a smart young man."
I don't specialize in sucker effects any more. When I went back at the principal's request for another show, I learned that my audience resented being made a fool of. After all, hey paid their own dimes for my service and it looked like I had a better time than they. I don't take the attitude anymore than I want to prove how much more intelligent I am than they.
Since then the theme of my show has grown out of their own imagination. In the midst of a crisis, at one time or other, everyone in my audience has wished that they were a real magician and could speak the right magic word or rub a lamp and their wish would come true. I take any trick and build a dramatic plot (call it patter if you like) around its general use as related to the type of audience. I make them feel that it is their show and not mine. At the present time, the two best tricks on my program are performed by spectators themselves while I walk out and sit in the audience. And when they finish, I applaud louder than anyone else. That's when everyone applauds best.