Michael Lauck is a columnist for iTricks. His work appears on Mondays.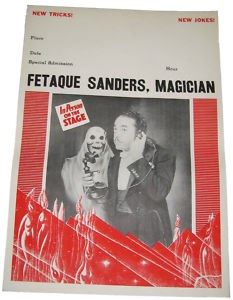 It Is Pronounced FEE-TAKE
He played Broadway, toured with Pearl Bailey and played 200+ cities and towns a year but few magicians today know of Fetaque Sanders.
A consummate showman and master of advertising, Sanders forged a successful career. Instead of booking the big shows, though, he concentrated on helping poor African American schools raise desperately needed funds.
Fetaque Sanders probably deserves to be much more well known today. He had a long and successful career that stretched from the Chicago World's Fair into the early 1960s, even after a stroke prevented him from traveling. He chose to spend the bulk of his working years doing fundraisers throughout the South and Midwest so he did not leave much, if any, film or video of his act. Although he was more than willing to help other magicians, he also did not produce a huge volume of effects or books. However, in a time when America was still segregated, he was the most successful black magician in the country and praised by many of his contemporaries.
Born in Nashville in 1915, Fetaque (which, according to his posters, is pronounced FE-TAKE) was the only child in his family to survive infancy. His father was an insurance salesman with a college education and his mother was an active community volunteer. Although not wealthy, the family was comfortable enough to be able to attend vaudeville shows at the Bijou, Nashville's black theater. Fetaque fell in love with the theater and in addition to shows at the Bijou he found he was able to see shows in the city's other theaters in exchange for hanging their posters. It very well could be that this would fuel his later interest in advertising. As a child he saw a magician named Tricky Sam (Tatum) and began to focus attention on magic. Starting with a dime store magic set acquired in a swap with a friend, he soon graduated to neighborhood shows. Luckily, a few magic books and Science and Invention, with its regular magic column, at the local library allowed
young Fetaque to continue his magical education.
By the age of 16, despite his parents' hopes that he go on to a more prestigious career path, Fetaque Sanders decided to become a professional magician. He took it upon himself to contact every professional he could to get advice. Instead of asking for trick handlings or other technical tips the young magician instead polled the working professionals to find the best courses he should take in college to further his career in magic. Drawing from his responses he decided to take drama, sociology and speech classes. This style of direct, personal contact would serve Fetaque well throughout his career.
With the Chicago's World's Fair approaching, Fetaque Sanders set off from Nashville with a thick book of testimonials and press coverage to land a position at the Fair. After several attempts, he finally secured a two week position as a magician in a concession called The Enchanted Island. Shortly after his booking he sent a program to Frazee, who wrote the Squawks column in The Sphinx. In the November 1933 issue Frazee mentions the program, stating: "A few years ago he was a kid. At that time he wrote me and confided that he wanted to become a magician. I advised him the best I could and he made good. He proved it by being booked at the Fair." The young man impressed management so much that his two weeks stretched into two years! Years later Sanders would say that at the Fair he was approached by Guy Jarrett, Thurston's illusion builder. Angry at Thurston, Jarrett offered to team with Fetaque, promising to make him the world's greatest magician. The
young performer had little faith in the older man, though, because Jarrett did not have a car like the successful Sanders!
After the World's Fair ended, Fetaque was working his way through Tennessee State University performing magic. A friend convinced him that while college was beneficial, it could not teach him everything he needed to know as a performer… but the circus could! The friend said that a circus tour for a performer was like boot camp for a soldier. He connected Fetaque with the Mighty Haag Circus, which would only hire the young man if he worked as an Arabian magician or blackened his light skin and did a minstrel act! Grudgingly, he donned the colorful robes of an Arab conjuror. The circus did not pay a wage, allowing performers to instead earn money with pitch projects. To supplement this income, the industrious magician learned to give tattoos.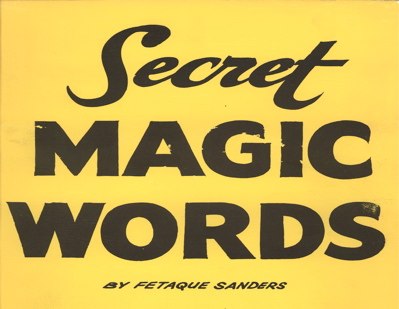 Even in his early days, Fetaque Sanders impressed his peers. In a 1934 report on Assembly 3 activities in The Sphinx, Jack Hazlehurst mentions a visit by Fetaque who "presented a great big show practically from his vest pocket." Hazlehurst also reports that the modest Sanders felt that he "was far from the world's greatest magician, thereby giving me heart failure." Preston, who wrote regularly in The Linking Ring, mentioned in the January 1938 issue he had just had a visit from Fetaque, "the inimitable Hindu magician," who had been finding success in Washington DC. Preston describes him as a great believer in showmanship who is, in the author's opinion, "one of the finest showmen in magic." A couple of months later Preston would mention that Fetaque was adding vent work to the act (he had picked up Punch and Judy puppetry during his circus stint). Preston had gotten this information via a letter and many of the mentions of Fetaque Sanders in magic periodicals through the 1930s and 1940s are the result of visits or letters from the man himself. Later in 1938, The Sphinx would run one of the few articles (possibly the only article) penned by Fetaque. In the September issue appeared a short piece entitled "What Part Do You Play?" In it, Sanders guides the reader through a few questions designed to help determine what character the reader should play while performing. Even though it was written 75 years ago, it is as valid today as the day it was first printed. It also highlights Sanders' view that showmanship is as important as technical skills. In it he states "What is the difference between a magician and a trickster? The magician is an actor who does tricks and a trickster is a fellow that does tricks and does not act."
Fetaque continued to tour and eventually moved from Nashville. He even earned a spot in the 1941 show Magic on Broadway, which was sponsored by Orson Welles and Richard Himber. When the War came to America, Fetaque Sanders signed on with the USO. Unfortunately, his wife and assistant Irene fell ill and passed away in 1943, just days before his first tour. He had met Irene after selecting her as a volunteer in one of his shows. This led to dinner, a courtship and marriage. Undoubtedly heartbroken, Fetaque Sanders still went out to perform for the troops and by the end of the War he was thought to have entertained over 3 million soldiers, much of the time also serving as the tour's manager. Sanders married a second time and for a while his new wife Mildred toured with him. After the birth of their daughter, though, she soured on the show business life and eventually left Fetaque. He returned home to Nashville and continued to specialize in school shows.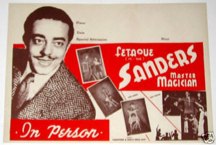 Based out of his trailer, which also served as a traveling workshop, Fetaque Sanders traveled throughout the country offering his services to African-American schools. He did not, however, try to get himself booked to perform for the school's student body. Instead, he presented his show as a fundraising opportunity for the (almost always impoverished) schools. Sanders provided the school administration with free posters and a shortened version of his show to the student body to generate publicity. He was later quoted by Jim Magus in his Linking Ring series "A History of Blacks in Magic" as saying "Advertising does not cost, it pays" and "A good magician's best advertising is a preview of his act." Despite the fact that Fetaque Sanders had many opportunities, thanks to his light complexion, to pass as a Latin or Asian performer to gain entry to larger venues he never seemed to regret his decision to focus on the school shows. He relished the fact that he
was able to travel around the country "like a millionaire," even if he did not earn the huge sums he could have probably commanded at traditional entertainment venues. Instead, he said (again in the Magus' Linking Ring series) "My successful career was based on a sincere love of humanity; I helped hundreds of needy Negro schoolchildren raise funds that greatly helped their limited budget."
A stroke in 1958 forced Fetaque Sanders to give up traveling. He suffered damage to his vision, among other after effects, and could no longer maintain his schedule, which saw him in 200+ towns every year. Although he is widely reported to have retired at this point, period magazines mention that he was still performing locally into the 1960s. Even after his formal retirement, Fetaque Sanders continued to collect magic (particularly ephemera related to the African-American magicians that came before him) and offer his counsel to younger performers. Not only did he continue to preach the gospel of showmanship, he also concentrated on the power of proper advertising. He was so influential in this phase of his career that he made the cover of The Linking Ring about a decade after retiring from the stage. Unfortunately, a car accident in 1983 furthered deteriorated his physical condition and forced Sanders to move into a nursing home. He passed away in 1992.