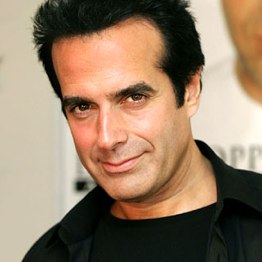 David Copperfield is even further putting his stakes down in Las Vegas. Not only will a new three-year agreement keep him at the MGM Grand (and off the road) for the foreseeable future, he'll also do it in style. The theater he calls home will be renovated and renamed The David Copperfield Theater come the fall.
Meanwhile, the hard work done behind the scenes over the last few years in his warehouse will begin to make it's way to the stage en mass come September. The bulk of the new illusions will hit simultaneously and the stragglers should be incorporated by the end of the year.
In an earlier interview with Mike Weatherford of the Las Vegas Review-Journal, DC described a few of the new illusions including one featuring a cartoon character named Attila:
An inanimate foam version of Attila is already in the act, but Copperfield's tablet computer shows test footage of an animatronic version more fluid than any Disney ride. Attila will walk, he promises, and "magic will happen to him and around him. He helps solve life's problems for all of us."

A scarier, "Jurassic Park"-sized surprise is being developed in the warehouse as well. "Every five-minute piece takes two or three years to work out. It's not fast food to me, it's really hard work."
The new show will be entitled "Live the Impossible".