Michael Lauck is a columnist for iTricks, his work appears on Mondays.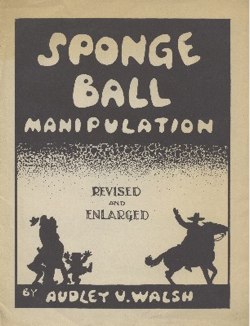 Some magicians like to pass themselves off as gamblers or grifters, but not Audley Walsh.
When not performing, he was Sergeant Walsh of the Ridgefield Park Police Department. Not only was he a prolific magic inventor, he also used his extensive knowledge of cons and gambling cheats to train all levels of law enforcement.
Audley Walsh was born in New York City in the summer of 1894. As a young man he worked at Wannamaker's Department Store. He seems to have developed an interest in magic thanks to a slightly older co-worker named Joseph Dunninger. Despite the fact that he was rubbing elbows with a future magic superstar, Walsh's interest in magic was, at least for the moment, a passing fancy. He went from the store to employment as a draftsman, where he acquired pen and ink skills that would serve him later in life. At this point, like so many other young men around the world, Audley Walsh's life was interrupted by The Great War. Serving in the Navy, he was trained as a radio operator and after the war he briefly worked in radio before deciding the return to his career as a draftsman. Somehow, though, he connected with vaudeville comedian Tom Howard and began a stint as the successful comic's straightman. In the mid to late 1920's he made another (final) career change and
joined the Ridgefield Park Police Department in New Jersey.
In 1932, Officer Audley Walsh was in a serious motorcycle accident. He broke both of his legs in the collision and after time in the hospital he was forced to convalesce at home to finish his recovery. After a visiting magician made an impression on Walsh in the hospital, a friend gave him a basic magic book in hopes of giving the bored patient something to do while he recuperated. The one time spark of magical interest grew to a flame as the police officer slowly regained his health. In 1933 he wrote a booklet on John Scarne's three card monte called Why You Can't Win. By the Winter 1935/36 Special he was contributing his own effects to Anneman's The Jinx, which would go on to print several of his effects. Around this time he also released an effect through Al Baker titled Number Please. The advertisement description in a 1935 Linking Ring sums it up nicely: You phone a friend, tell him to do thus and so with his own pack of cards, then you name the
one he chooses. Entirely impromptu, easy to do…
Back in the 1930's police departments all over the United States had "bunco squads" which were dedicated to fighting crime in the form of gambling and confidence rackets. These squads targeted everything from crooked carnivals to larcenous door to door salesmen and took their name from a popular turn of the century dice game. Since Prohibition, though, bunco had been replaced by other games of chance that had become popular in the speakeasies, such as craps, roulette and a host of poker games. Officer Walsh must have seen that his new found sleight of hand skills could be used to his advantage when studying the methods of the corrupt gamblers and con artists. When the United States entered World War II, Audley Walsh's contribution to the war effort was to tour military bases warning of the scams that criminals would use to try to separate the soldiers from their pay (or even worse, steal from supplies from the war effort). By now he was collecting
apparatus, too, and some of his collection were used as examples during his lectures. An article on Audley Walsh in the July 1954 issue of M-U-M mentions that in addition to many hold outs, fixed game wheels and other items he personally owned over 8,000 decks of crooked cards and 5,000 sets of fixed dice.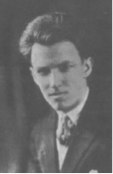 By the end of World War II, Walsh's side career as a magician and magic inventor was movingly along nicely. Magic periodicals such as The Jinx and Hugard's Magic Monthly had published several of his effects, including a wordless explanation of The Lovers' Knot in Jinx #28 (done as a pen and ink illustration), The Magician's Dream in Jinx #43 and the Slip Palm Sleight in the June, 1944 issue of Hugard's. He also illustrated at least one of Cardini's columns for New Conjuror's (February 1945). His effects were appearing in collections by Hugard and in the Tarbell Course, too. He had released a booklet detailing his sponge ball routine in 1936 and updated it in 1940. Walsh's Chang-O Card was featured in 1945 Tannen's ads and Kanter's Magic Shop started offering a "Audley Walsh's Special Routine" with their Radio-Vision Frame sometime in 1944. Their ad copy proclaimed: Audley Walsh, that clever idea-man, comes along and says our Radio-Vision Frame is a swell
number and deserves something special in a routine– so he dopes out and presents it this way: No cards are thrown at frame, thus no time lost later in picking them up. A card is selected and returned to pack. Attention called to empty paces in frame which are then covered with a hanky, lifted out of frame and given to spectator to hold (still covered). Card is found missing from pack, spectator lifts hanky and discovers card between panes of glass! It's a darb. Beautiful outfit with Walsh routine.
Walsh's law enforcement career was also going very well. Early in 1947, there is mention in magic magazines that he had received a promotion to Sergeant. A few months later Linking Ring announces that he has been lecturing FBI personnel and that his material on gambling and con artists would be added to the New Jersey Police Academy curriculum. His lecture on the topic had been refined after countless addresses of military bases and law enforcement groups; it was now titled Rackets Are My Racket. Thanks to his work with the FBI and local police groups, his lectures began to see national attention outside of the magic periodicals. Around the 1947 holiday season the New York Mirror did a two page spread on Walsh, in color, headlined Suckers at Cards. In spring of 1948 the Rackets Are My Racket lecture was featured on television for the first time. He would go on to do several television appearances, including The Arthur Godfrey Show (1949), We The People
(1950), The Fay Emerson Show (1951) and The Gary Moore Show (1953). Unfortunately, most of these appearances seem to be lost. Walsh supposedly made a theatrical short at one point on gambling cheats and cons that was sometimes featured on television. If this is true, it may still exist since it was on film. He also expanded his lectures, speaking to parent-teacher groups and other organizations about how to protect one's family from thieves and grifters.
Not be outstripped by his day job, Walsh's career as a magician continued to find success. He became increasingly interested in offering his own props and gimmicks in addition to booklets such as Triple Trik (circa 1948). In 1948 he released Expert Dice manipulations for $7.50, complete with all dice and gimmicks necessary. Even though it was a bit expensive by some standards, Bill Larsen used his column to tell other magicians that it would "repay you many times for the few moments you'll have to devote to its mastery." By the next year he was offering his own style of hold outs for $25 and in the early 1950s his custom designed card droppers hit the market. He eventually teamed with George Brand to create more items. Their first offering came out in mid-1955 but unfortunately the partnership was a short one. In June of 1957, Sergeant Audley Walsh of the Ridgefield Park Police Department passed away due to coronary thrombosis at the age of 63.