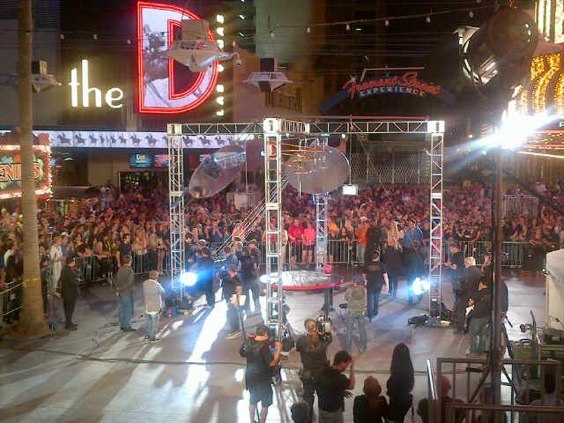 Criss Angel made his return to Fremont Street last night with his first big filming for his upcoming Spike series. It would be safe to say that he'd probably like things to run a little smoother than this in the future.
Entitled Death Premonition, Angel was tied to a bed with swords suspended above him and dropped one by one. All but one were positioned to fall near him, one sword was positioned over his heart.
The filming hit an hour delay and was then beset by some technical malfunctions. A video by Las Vegas Weekly reporter / author / magician Rick Lax shows a pretty big tech error during the finale of the trick which left some in the crowd that hung around pretty miffed. PLEASE BE AWARE OF STRONG LANGUAGE.
And then there is the creative origin of the trick itself…
The day of filming, Mike Weatherford of the Las Vegas Review-Journal made note that the description of the illusion matched one used by current Riviera illusionist Jan Rouven.
His Bed of Death routine was designed for the German version of Phenomenon and is currently in Rouven's act.
Angel's camp says the illusion was inspired by the Clive Barker film Lord of Illusions which indeed features a hanging sword demonstration. You can catch glimpses of it in the trailer below. Angel even went as so far to film and release a blessing from Barker himself before the filming last night.
Angel tweeted pictures of the LoI scene last night while thanking Barker for the permission to bring his movie to life. Rouven's team says that his illusion was inspired by Lord of Illusions, even if Angel's demonstration was inspired by Lord of Illusions it still had to be developed into a theatrical magic effect which they claim Angel lifted from them.
Either way, Criss Angel has to be hoping that his next big demonstration (an effect called BLIND, according to his Twitter) goes a bit smoother than this one did.