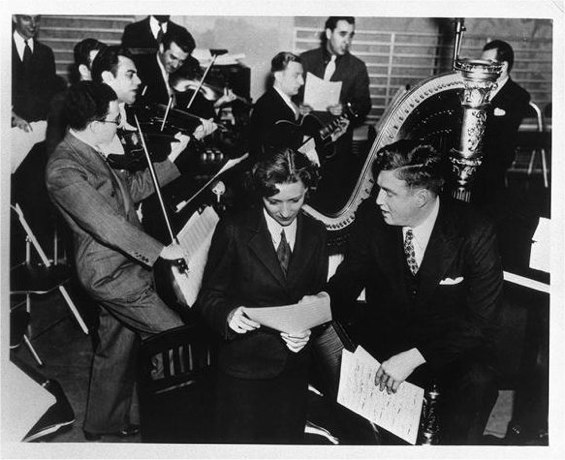 Michael Lauck is a weekly columnist for iTricks
Today magicians recognize Richard Himber as the mastermind behind the Himber Wallet and Himber Rings, but he was best known during his life as a bandleader.
Magician and prankster Richard Himber had a mixed reputation among other magicians, who referred to him the "bad boy of magic." In the world of music, though, he was an unqualified success who worked with Rudy Vallee, Tommy Dorsey and other greats of the jazz era.
Even though Richard Himber passed away almost 50 years ago his magical creations are still in wide use today. Even if you do not perform them, you have undoubtedly come across Himber Rings and Himber Wallets in magic stores, catalogs or websites. A little less in fashion today is the Himber Milk Pitcher, although it was a popular prop in the 1940s and '50s. Himber was not only an inventor, and performer but a manufacturer. He was said to have provided a great deal of custom work for clients, offering both his own creations and classic props. Richard Himber also guarded his interests as a manufacturer. It was reported in Genii that he had initiated a lawsuit against Percy Abbott claiming $5000 in damages for copyright infringement of his Milk Pitcher in early 1945. In May of the same year Walter Gibson's New Conjurors' Magazine mentioned that the lawsuit had "resulted in a draw" and that Abbott would continue selling their version (which seems like more
of a loss for Himber than a draw).
This willingness to use legal action against another magic company probably helped contribute to Richard Himber's mixed reputation among magicians. Even though William Larsen Jr. has obviously has a deep friendship and sense of loss for "Dick" in his Genii Speaks obituary, he also affectionately brands him a pest. Himber was widely known as a practical joker and in the New York restaurant and nightclub scene as a terror to staff and patrons. Himber was infamous for tossing butter pats on ceilings and bits of food down ladies' dresses. This broad, anything for a laugh, approach to humor showed up in his magic performances as well and not everyone appreciated it. The writers of Genii were fond of calling Richard Himber "the bad boy of magic," and whether or not the nickname was meant in jest seems to have depended on the columnist. Although Himber had many friends, not everyone appreciated his sense of humor and there may have been some bruised egos when
someone who was not considered a full time magician appeared on television. For example, in a May 1950 Genii column Edward Dart mentions casually that Himber had recently made an appearance on The Buick-Berle Show and "really did magic in a very professional manner. It is too bad that he does not always follow this rule." Even in LeRoy's tribute to Himber in Genii after his death, it is mentioned that among magicians there would be some "who will find no kind words to say about you" and that Himber, more than anyone else he ever met, received "slurs when you merited 'thanks.'"
Richard Himber was serious about magic, though, and was capable of more than just schoolboy pranks. LeRoy, in the previously mentioned tribute, tells of the Himber deciding to create a new persona and present an Oriental magic act in disguise. The show would be promoted among the magic fraternity, just so he could reveal himself at the end thereby proving he was capable of serious magic. LeRoy used his column in Hugard's Magic Monthly to announce the upcoming premiere of exciting new performer Ri Kee Tri Kee (which in itself does not suggest serious magic). He also organized the show so that no one would realize that Himber was associated with the act in any way. Two days before the show was to go on, though, Himber called LeRoy expressing second thoughts and misgivings about the plan and then promptly backed out! On the hook, LeRoy had just two days to transform himself into the much anticipated Ri Kee Tri Kee for the show… he was not mad though (at
least not by the time of the tribute) because deep down he had always wanted to try an Oriental act and he knew all along that Himber was liable to do anything for a laugh. Did Richard Himber set up this entire ruse just to embarrass his friend by having him talk up a non-existent new talent or to push LeRoy into an act he had dreamt about but never performed?
Although the name Himber is associated with his magic inventions today, during his lifetime Richard Himber was actually better known for waving a bandleader's baton than a magician's wand. Born in New Jersey in 1900, his parents had started him off early with violin lessons, but these ended when they discovered that he was secretly playing in clubs. Their solution to their son's wayward leanings was military school, but young Richard ran away and got a job playing in a New York cabaret band. He performed in various music acts through the vaudeville years and eventually landed a position running Rudy Vallee's music agency. Soon after Himber had his own booking service, which allowed him to meet top talent (including familiar names such as Tommy Dorsey and Benny Goodman) and form his own orchestra which played at the Essex House Hotel. He also starred in a couple of Vitaphone musical short films in the mid 1930s. By 1939, Himber had his own radio show on
NBC and he would continue to lead bands for radio programs throughout his life. At various times his group was known as the Studebaker Champion Orchestra, the Ritz Carlton Orchestra and even the NBC Orchestra. Although it did not play well for radio, Richard Himber was known for enhancing live performances with magic interludes. This would serve him well later, though, because a guest appearance by Richard Himber's Orchestra on early television variety shows also meant that producers could fill another slot with Himber's magic.
In addition to his booking agency and band, Richard Himber also published the R-H Log which tracked the popularity of music pieces. This early ratings system not only followed the use of music on radio but also in the growing television market. Despite this innovation he was not popular among music publishers, supposedly because he refused to participate in the notorious payola system. As if he was not busy enough with his work running his various enterprises, Richard Himber also composed music. "Monday in Manhattan," "Time Will Tell," and "After the Rain" are a few of his compositions. Several articles about Richard Himber's career mention that he wrote the original theme for NBC's Today (and sheet music for a Richard Himber composition entitled "Today" is still available), but other articles on the history of Today mention that its original theme was "Sentimental Journey," which was composed by Les Brown and Ben Homer, and that it did not use original
theme music until the 1970s. A few years ago Renovation undertook the task of releasing "The Complete Richard Himber Orchestra;" there are currently three volumes (the third just being issued last summer) available on CD or as MP3 downloads. A second company, Circle, also offers a couple CDs of Himber's music.
Richard Himber passed away in December of 1966, apparently suffering a heart attack after leading an outdoor concert for Pepsi from the back of a flatbed truck. His prop designs are still used all over the world. Although not as well remembered as the Dorsey Brothers, Benny Goodman or other bandleaders, stories of musical, magical prankster Richard Himber turn up in the biographies of jazz greats and his music can still be easily found.