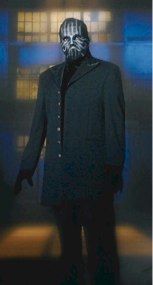 According to screenwriters John Francis Daley and Jonathan M. Goldstein in a previous incarnation of The Incredible Burt Wonderstone, there was one well known magic heel who was set to cameo.
Val Valentino, the Masked Magician.
With all the rewriting, a few of Daley and Goldstein's ideas didn't make the cut — namely, a cameo from the infamous Masked Magician. Illusionist Val Valentino went incognito for a series of Fox TV specials that pulled the curtain back on magic's biggest tricks. Daley was actually a fan. "It was a gimmick, but I actually enjoyed watching the show," Daley says. "I wanted to see the magic revealed. At one point it was a plot point in one of our 12 or 13 drafts of Burt. But we wanted to focus on the rivalry of the two."
Very curious to see what the plot could have been. Although an argument over exposure in the magic community might be impossible to translate into a mainstream movie without the audiences eyes glazing over.