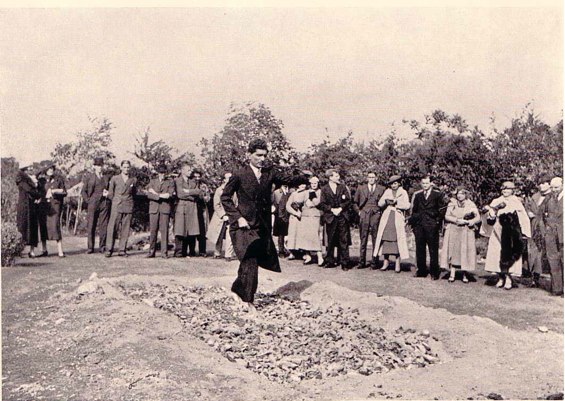 iTricks columnist Michael Lauck reminds us of one of the most important names in televised magic, that many have already forgot…
The oft-overlooked Kuda Bux may be one of the most important magicians of the 20th century.
Mixing Eastern mysticism and stage magic, Kuda Bux created a persona that is still used by some today. More importantly, the Indian born Muslim was probably the first magician in America with his own network television show.
The early days of television were much different than most people today are led to believe. Many people are familiar with the story of Bruce Lee being passed over for the lead in the 1972 television series "Kung Fu," because network execs were supposedly afraid that America wasn't ready for a series with an Asian lead actor. However, twenty years earlier Anna May Wong had starred in her own series, "The Gallery of Madame Liu-Tsong," as a mystery solving art dealer. Even though it is largely forgotten today "The Hazel Green Show." which aired in the summer of 1950 on the Dumont Network, was the first network program hosted by a black woman (it was quickly canceled after accusations that Green was a Communist sympathizer). Those early days also saw the transition of the successful radio family comedy "The Goldbergs," which followed a Jewish family in the Bronx, to television. The show was created (and usually written and directed) by its star, Gertrude Berg, and ran for several years after almost two decades on the radio. Given these facts, it should be a little less surprising to learn that one of the first magicians with their own network television show was actually an Indian born Muslim named Kuda Bux, The Man With The X Ray Eyes.
An August, 1969 Genii cover featuring Kuda Bux called him a "Man of Mystery," and that sometimes over used title certainly applied. In an article on Bux shortly after his death in 1981 Peter Pit wrote that the magician was not actually sure when he was born and that passports found in his personal effects alternately list his birth year as 1905 or 1900 (Wikipedia says 1906). Most sources seem to agree that he was born Aknmor, Kashmir which was part of India at the time and later became part of Pakistan. His family was fairly well off at the time, although they evidently lost much of their land when Pakistan was created in 1947. Young Khuda Bakhsh left home around the age of 13 to make his way in the world. Fascinated with the feats of fakirs and holy men, he had already worked out a rudimentary form of the blindfold act that would later become his signature piece. He started performing in his teens and is said to have revealed his early method (he told John Booth that it involved "a simple peek") to P.C. Sorcar's father. Sorcar used the bit throughout his career.
By the 1930s the young magician had worked his way to England. Under the name Professor K.B. Duke he was presenting his traditional Eastern mysteries, such as fire walking. Using a strategy similar to Houdini's police orientated escape challenges, he would perform challenges in front of medical doctors and other scientists after implying he possessed some type of supernatural powers. Several of his stunts, such as walking blindfolded along the narrow ledge along the roof of a 200 foot tall building in Liverpool, ended up being described in medical journals. By the time he came came to America in the 1940s he was using the name Kuda Bux. At this point in his career he had been buried alive for 16 days, walked on fire, jumped on spiked boards, stopped his heart while being X-rayed and, he claimed, shot himself in the leg, removed the bullet and healed himself in approximately 20 minutes using his extraordinary powers of concentration. According to Tom Ely he would even show off the scar left by this demonstration!
Bux's approach was to blur the lines between magic and mysticism, which was successful but at times vexing to the magic community. He was quick to spin stories of the mystics and fakirs of his homeland, for example saying he once secretly observed a praying mystic levitate. He implied that he had developed these abilities although he seems to have stopped short of actually stating this outright. Once when an English reporter blurted out to him that his blindfold act was a trick he retorted dramatically "Of course I can see. How I can see is my secret." On other occasions he would tell reporters that he would never teach others his secret because there was nothing to teach. When reporters and audiences speculated that Bux had otherworldly powers, he apparently just did not argue. In Phoenix #184 Bruce Elliott complains that a recent Mechanix Illustrated article concluded that Kuda Bux actually had X-ray vision (even though the magician was unable to make fine print handed to him while blindfolded) and Jean Hugard would later complain about an Argosy feature on Bux's blindfold act written by Roald Dahl with overtones of the supernatural. A great supporter of Kuda Bux who played up the supernatural aspect of his act was Robert "Believe It Or Not" Ripley. He organized an early fire walking demonstration in New York for the magician and had previously sponsored him in a six day bicycle race, which Bux, of course, completed while blindfolded. Kuda Bux was also featured on the very first television episode of "Ripley's Believe It Or Not."
It is little wonder that so many marveled at the Man With The X-Ray Eyes. There was almost no doubt that his eyes were completely covered. First balls of dough were pressed over his eye sockets, then covered in cotton cloth. Sometimes, but not always, we would tape large coins over his eyes as well. No less than 12 yards of bandages were then wrapped around his head and eyes (but not his nostrils, that was one of his few restrictions leading to one newspaper speculating he used his sense of smell to read) and then three cloth cocktail napkins were tied around the entire affair. While his eyes were covered in this manner he was able to perform all sorts of task, including driving, riding a bicycle, feats of marksmanship, tracing words written on chalkboards by volunteers and more. When Canadian reporters stated he must use stooges in a review of a live show, he appeared at their offices the next week and allowed them to test his X-Ray eyes… they recanted! After his death, many magicians mentioned that even though they saw Kuda Bux perform many times, often relatively close up at the Magic Castle, they could not be sure how his signature piece was performed. Despite his inclination to invoke the paranormal, or perhaps more likely because of it, Kuda Bux was a very well known performer in the 1940s.
It is difficult to determine if Kuda Bux was using mysticism as a marketing tool or if he had some spark of belief in his core. Tom Ely wrote that "I am never quite sure when Kuda is applying his very fine sense of humor to completely 'put me on' or when he is totally serious" in a 1969 piece that also featured the story of bullet wound healing feat. A quote from a video interview with Peter Pit perhaps best sums up Bux's personal beliefs. He said: "I believe in Card Reading but I don't
believe in Card Readers. I believe in Mentalism but I don't believe in Mentalists. I believe in Spiritualism but I don't believe in Spiritualists."
This was an act perfect for television and CBS seems to have first put him on in 1948, but details of the early days of TV can be a bit murky. In a 1949 Hugard's Magic Monthly TV Topics column it is mentioned that Kuda Bux is "back on the CBS network." The brief review of what seems to be the first show of a new season mentions that Bux's announcer did most of the talking in the 15 minute broadcast and that the finale involved a blindfolded Kuda Bux thrusting a sharp knife into a wooden block… between the outstretched fingers of his announcer. A 1950 article from the same publication gives a fuller description of Bux's charm when describing the continuing series. Hugard wrote that "even prosaic silk and card tricks take on new mystery as he presents them in his Hindu costume with strange accent and accompanying sound effects." It goes on to mention a few of Bux's past highlights, which include jumping barefoot onto a narrow, spiked board and catching darts thrown at him with a ping pong paddle (all while blindfolded of course). Unfortunately, it appears that all episodes of Kuda Bux's television series have been lost.
Although Kuda Bux is forever linked with his X-ray vision act and Eastern mystic overtones, he actually toured with a full illusion show throughout the 1940s and in later years. The early incarnation of his show included standards such as shooting a ribbon through a girl, a coin ladder, a levitation and an interesting sounding effect which featured a girl in a butterfly costume who disappeared after folding her costume's wings over her body. Later he briefly employed comic Joan Rivers as an assistant. She was fired because she not only played being sawed in half for laughs by making faces, she had lied about her dress size and was much too small for the act's costumes! Throughout his career the stage show ended with his famous blindfold act.
Kuda Bux was a popular performer and TV guest throughout the 1960s and 70s. Like so many magicians he migrated to the west coast. During the 1970s he was a Magic Castle regular, famous for his card games with Dai Vernon. It is said that he was a pretty good card player, but if he was blindfolded he was unbeatable. Just two days before his death in February 1981 he had played the Castle and received a standing ovation for his blindfold act. It was only after his death that many people learned that in his later days The Man With The X-Ray Eyes was legally blind! He had been a popular figure in the magic community and there were several tributes to him in the magazines. They highlighted his immense popularity in the post World War II days and personal generosity but his time as a television pioneer was almost completely forgotten.
The best, and somehow saddest, example is perhaps his Genii obituary which mistakenly called his CBS series a radio show.