iTricks columnist Michael Lauck explores the world of magic's tiny, metal keepsakes.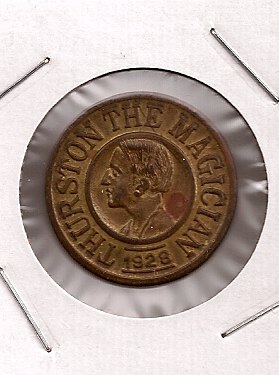 Have you ever heard of magic tokens? Part advertisement, part prop and all magic history.
Today we'll examine how and why magic tokens came about, who created them and why they are so cool.
If you are wondering what exactly a magic token is, don't worry: you aren't alone! It is a bit difficult to define exactly what constitutes a magic token. Basically, magic tokens are coins and medals made for and by magicians. What they are not are gimmicked reals coins or gaffes made for performing tricks, although "palming coins" are kind of a gray area. In general, though, if it has the name or logo of a magician, magic shop or club, it is a token. You might be wondering if they are not the gimmicks of the trade like shells and flippers then what is their purpose? I'm glad you asked, because that is what makes them so cool.
Most tokens were created as souvenir pieces, a clever combination of business card and keepsake. You may be familiar with magicians who have actually had their own decks printed, like Jeff McBride. When a volunteer walks away from a trick their signed card will always remind them of exactly who amazed them. Others, such as Howard Thurston, have had special decks created for scaling (throwing) cards into the audience, leaving the recipients with a nice keepsake. In fact, his weren't even playing cards; they have his picture on one side and his step-daughter Jane on the other. Tokens offer coin magicians a similar opportunity. Instead of performing with standard coins, imagine a close up performance using special coins with your likeness (and sometimes contact information) that can be left with the audience. They can also just be simply handed out as a thank you to volunteers or produced as a quick trick for people you meet everyday.
A magic token is advertising, just like the more familiar and extremely collectable magician posters. Much like posters they have attractive artwork, albeit not in the detail or size found in posters. However, tokens can be found for much less than posters. They are probably the last truly affordable magic collectable (more on that in my next article). Tokens have another extremely attractive quality for collectors, though, because they were often used in performances like larger props. The vast majority which were issued by a magician were probably actually held by that magician! Magician Kevin King (www.kevking.com), who is also one of the largest magic token collectors and dealers today, sums it up like this; "When you hold one of these tokens, think of everyone who has held it from that magician until today. You can almost feel that energy."
I know some readers might scoff at the idea of a magician performing with coins that were obviously custom made. After all, what could be more suspicious? However, you have to remember that tokens were much more common in the past. First of all, there was a late 18th century revival of the renaissance tradition of creating medallions and small medals (basically coins) as awards and keepsakes. This is actually the origin of not only military decorations but other award medallions, such as those given to Olympic champions and Nobel Prize winners. As metal stamping and casting services could be easily found in any town, many businesses began issuing medals as well. Large milling, mining and farming outfits, for example, might have their own coins (commonly called "scrip") redeemable at their company stores which they used to pay workers. Some states even issued scrip worth less than a penny to pay sales taxes. Smaller businesses issued tokens to be used as coupons or gift certificates. These reusable coins could be re-issued many, many times so a small investment could lead to years of advertising and goodwill.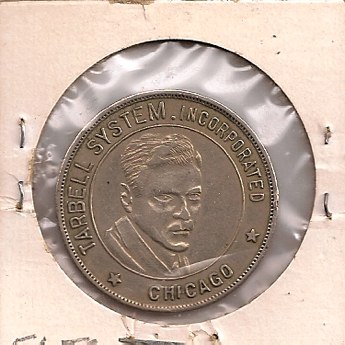 Tokens were also a tremendously popular souvenir. Not only were there commemorative coins struck to prove that you had been to far off destinations, they were created for special events such as a World's Fair. Schools, clubs and professional organizations began to issue their own tokens in honor of anniversaries and other special events as well. Many of these were pierced (by design or by the owner) to hang on necklaces or use as watch fobs. Even today if you poke around a gift shop (or decent sized truck stop), you'll find coins to commemorate visits to the St. Louis Arch, Grand Canyon and Sea World.
As you can see, it was not so very long ago that tokens were fairly common. In post World War II America you may have had a good luck piece from the local chamber of commerce on your keyring and a few tokens in your pocket good for a free beer at the corner bar, the tenth of a cent state sales tax and another good for the subway ride to work in the morning. In this environment, the magic token flourished for many years. In fact, they are still be created today for magic club conventions, shops and magicians.
There is a very good chance that your favorite magician of yesteryear has a token associated with him. John Mulholland was a magic token collector and probably wrote the first article about them in a 1936 issue of The Sphinx. In it he traces magic tokens back to a medal struck for Herr Alexander in 1847 by his friends in New York, although William Kuethe lists magician's tokens from the late 1700's in his book Magic Tokens and Related Items (issued as a special volume of the Token and Medal Society magazine in 1978) and Edgar Heyl (in Findlay's Third Collectors' Annual) traces tokens back to a 1580 portrait piece of Hieronymous Scotius. As we enter more modern times we find tokens issued by luminaries such as Thurston, Mulholland, Chung Ling Soo and more.
As mentioned, clubs and shops entered the token business as well. Both Mulholland and Heyl agreed that Martinka's issued the first palming coins in the late 19th century. Not gimmicked or gaffed in any way, it was designed simply to be easier to palm and show up well when performing. Over the years they issued multiple designs and sizes in various materials. Other groups soon followed; Hamley's, Chicago Magic Company and Davenport's were among the many to offer their own tokens. August Roterberg, who operated a magic shop in Chicago, issued a dizzying amount of coins over the years with unnumbered minor variations emblazoned with "Maja, Goddess of Magic."
Tokens can be a fascinating glimpse at the yesteryear of magic. Best yet, they are one of the last affordable entries into the world of magic collecting. The second part of this article, coming soon, will be a sort of quick start guide to collecting and caring for magic tokens. We'll cover everything you need to get started and get tips from Kevin King.