SPONSORED POST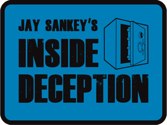 For just $99.00 (including a free $75 Gift Pack!) a One Year Membership to
Jay's exciting new magic + mentalism training site is a STEAL.
Created for total beginners and seasoned experts, his new 'Inside
Deception' site features Guest Instructors, Creators Workshop,
Sleight-of-Hand Lounge, Script Clinic and new training videos EVERY WEEK.
OVERWHELMING DEMAND
Due to overwhelming demand, Jay and his team are extending the offer of a
FREE $75.00 'Gift Pack' with all new memberships to the new magic +
mentalism training site. The exclusive 'Gift Pack' includes DVDS,
e-products and the two brand NEW Sankey effects, 'Caffiend'
CAFFIEND AND CHANGELING
Sankey says, "I've been having a blast with 'Caffiend.' It's an insanely
visual effect with -what looks like- a generic loyalty card from a coffee
shop. You do something absolutely impossible and then immediately hand
out the card to be examined. And 'Changeling' is an extremely sneaky
principle you can use to make written words and small drawings
mysteriously appear, disappear, even transform. It works with indelible ink
from an ordinary Sharpie marker, and I've used it on dollar bills, playing
cards and business cards to change predictions and reveal selected cards."
'Caffiend' and 'Changelng' both include custom-made gimmicks and are
included FREE in the $75.00 gift pack.
'MAGIC BUDDY SYSTEM'
For a limited time, Jay is also giving a $25 Sankey Magic Gift Certificate
to all new members who get a 'magic buddy' to join as well. Jay points
out, "Whether you're going to the gym or taking a class, people always
have more fun when they do it with a friend." Get TWO friends to join you
at 'Inside Deception' and Jay will give you a $50 Sankey Magic Gift
Certificate!
For more information and to JOIN NOW visit
http://www.insidedeception.com
SPONSORED POST