iTricks columnist Michael Lauck takes us on a tour through Houdini's film credits, as both star and inspiration…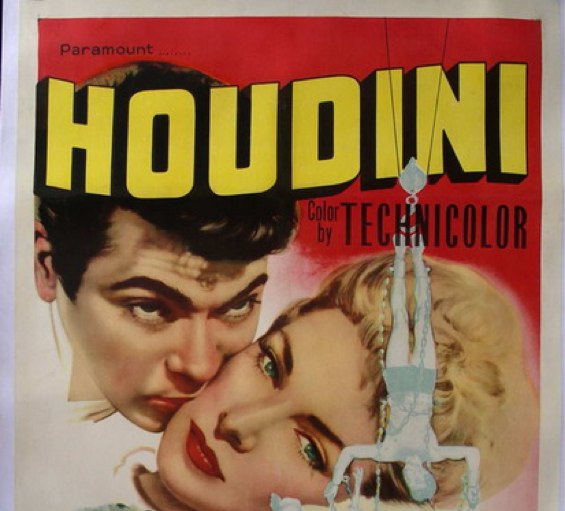 Houdini is probably the world's most famous magician, thanks not only to his live performance but also big screen portrayals of his act.
Although the most famous film on Houdini is the biopic starring Tony Curtis, it is only one of several fictional portrayals of the magician. More impressive? Houdini himself was a visionary who experimented with films as an actor and producer.
For many people, their first exposure to the life of Houdini was the movie featuring Curtis and Janet Leigh. Based on the biography by Harold Kellock and directed by George Marshall (one of the co-directors of How The West Was Won), the film captures the excitement and wonder that was generated by Harry Houdini during his career and was enhanced by the talents of technical adviser Joseph Dunninger. The plot centers more on the love story between Harry and Bess than magic, though, and benefited from the fact that at the time Curtis and Leigh were one of the most famous married couples in Hollywood. As entertaining as it is, there are many problems with the movie from an historical point of view, including the fact that it portrays the death of Houdini after an accident in his famous Chinese Water Torture Cell.
Houdini would get another biopic, this made for television, during the magic boom of the 1970s. The Great Houdini was first broadcast in 1976 on ABC as The Great Houdinis. It starred Paul Michael Glaser (Starsky of TV's Starsky and Hutch) and Sally Struthers as Harry and Bess. Although made for television, the project had a decent budget with Harry Blackstone Jr. as the magic adviser and a cast including stars such as Bill Bixby, Vivian Vance, Ruth Gordon, Adrienne Barbeau and Peter Cushing as Sir Arthur Conan Doyle. It also has its problems, but it is arguably a more realistic portrayal of the magician's life than the Marshall film. Television revisited Harry Houdini's life story twice more with TNT's Houdini (1998, starring Johnathon Scheach) and The Wonderful World of Disney's Young Harry Houdini (1987, starring Wil Wheaton). Television has also given us several non-fiction Harry Houdini programs, including episodes of the PBS series American Experience and A&E's Biography.
The big screen was not done with Houdini, though. He appeared as a character in 1981′s Ragtime, portrayed by Jeffrey DeMunn (recently seen as Dale in The Walking Dead) who also reprised the role as adult Houdini in the above mentioned Disney project. Harvey Keitel played the magician opposite Peter O'Toole's Sir Arthur Conan Doyle in FairyTale: A True Story. This 1997 film was based on an actual incident, concerning photographs of allegedly real fairies, investigated by the two men. Guy Pearce last portrayed Houdini on the big screen in 2007′s Death Defying Acts. Co-starring Catherine Zeta-Jones, this movie saw an extremely limited release in the United States despite being directed by art house favorite Gillian Armstrong (Oscar and Lucinda, Mrs. Soffel). Death Defying Acts is available on both DVD and Blu-Ray.
Luckily, we do not have to rely solely on modern day documentaries and fictional accounts to get a taste of Houdini on film. The world's greatest magician saw the enormous potential of motion pictures. He was known to show short films of some of his famous escapes during his vaudeville days. Houdini also allowed footage of his escapes to be shot in Paris and exhibited as a film. Eventually he decided that his future lie in fiction and set out to become a bona fide movie star. Houdini's first project was the 15 chapter silent serial The Master Mystery for Octagon Films. This was his only film in which his character did not have the initials H.H., instead portraying secret agent Quintin Locke. Along the way he faces a strangler, a robot (yes, a robot) and, as you may imagine, escapes from many, many traps, locks and cells.
Although The Master Mystery was not a huge success, Houdini was able to parlay the role into a deal with Paramount. He made two films, The Grim Game and Terror Island, with the company before deciding to jump all the way into film and start his own company. Houdini Picture Corporation produced the magician's final two films: The Man From Beyond and Haldane of the Secret Service. All of these films are silent, of course, and in black and white although much of the footage is color tinted for dramatic effect.
Unfortunately, for many years very little care was given to the preservation of silent films (or, in fact, any film). The Houdini movies were no exception. Each production has at least a small amount of missing footage, resulting in the odd jump of scenes and such. The Master Mystery, although complete enough to convey the story, is actually missing some entire episodes (as well as footage from the remaining episodes). Even worse, The Grim Game is almost completely lost; only about five minutes are known to exist. A few years ago Kino International, the company responsible for magnificent restoration of Fritz Lang's Metropolis in 2002, collected the Houdini films into a box set called Houdini: The Movie Star. It includes restored versions of Haldane of the Secret Service, Terror Island, The Man From Beyond, the most complete version of The Master Mystery available and the snippet of The Grim Game that remains. It also includes footage culled from several newsreel reports and the French film of Houdini's escapes.
For those looking for a taste of Houdini's films, the Kino restoration of The Man From Beyond can be found on Netflix's streaming service as well as Dish Network's Dish on Demand. (Potential viewers beware; there are some spoilers in the following review.) This feature tells the story of a man discovered frozen in the Arctic ice who returns to life 100 years later to save a young woman from an evil suitor. In many ways, it is probably exactly what you would expect from a film produced by and starring Harry Houdini, the world's most famous escape artist. Somehow his character, Howard Hillary, manages to get locked in an asylum and later has to save his leading lady from getting swept over Niagara Falls. What is surprising, though, is that the insane asylum sequence is the only example of Houdini's famous escape act in the film. At one point it appears that Houdini's character is heading for the city jail, only to avoid a cell when his accuser recants at the last possible moment. It almost feels as though Houdini is actually rubbing the lack of escapes in the audiences' faces at this point, especially since the police do not restrain the Handcuff King when they arrest him. This is made worse by the fact that his earlier asylum escape is initially skipped over and revealed in later flashback! There is a rousing fist fight, though, that showcases the magician's athleticism but it loses a bit of its impact by somehow working its way from a home to the edge of a cliff in an almost comedic sequence. The film seems to have as many special effects as it does actual stunts performed by Houdini!
For many viewers, though, the biggest surprise of The Man From Beyond is the subject matter. After a century frozen in an ice block, Hillary is thawed out and returned to life. There is a sequence that shows some type of billowing ghost-like shape settling over his body as he revives, obviously suggesting that it is his soul. Although his lady love Felice was left in the past, the niece of his rescuer shares her name and face. Hillary believes the modern Felice to be a reincarnation of his Felice and that they will share a predestined and extraordinary love. This position is affirmed by the end of the film with a special effect sequence showing the spirit of deceased Felice merging into the body of the modern Felice. Believe it or not, the film actually begins with a Biblical passage discussing the resurrection of the dead.
Although The Man From Beyond is not a particularly good film or exciting testament to the skills of the world's most famous magician and escape artist, it is an interesting glimpse into the mind of Houdini. He is credited with the story behind the film, which undeniably argues for the reality of reincarnation. We tend to remember Harry Houdini today as an enemy of the spiritualist, but it is probably best to remind ourselves that he was an enemy of those who faked their spiritualist powers. Even if Houdini did not believe in such things (and I personally suspect that if he did not then he at least wanted to believe) it seems he felt it was to his advantage to have some of his audience believe in extraordinary phenomena. After all, he is the same man who allowed an account of his supposed other-worldly experiences in an Egyptian pyramid, even though it is stated that he was sure the events could be attributed to his own imagination, to be ghostwritten by H.P. Lovecraft. (If you are interested, you can find "Imprisoned with the Pharaohs," which was originally published in the May, June and July 1924 issues of Weird Tales, for free here.) The Man From Beyond is worth watching for anyone interested in Harry Houdini, even if you only fast forward to seem him perform the asylum escape.