iTricks writer Michael Lauck tell the story of Joe Besser, the a stooge by many definitions.
Among magicians, stooge can be a bad word.
It is as if placing a secret assistant in the audience is somehow cheating or lying and the rest of a magician's methods are completely honest and above boards. Granted, overuse of stooges is a poor practice just as over reliance on any technique can lead to trouble for a performer. Stooges have their place, though, just like any other method and many successful magicians have employed them in the past. Sometimes using a stooge can even lead to great things… at least for the stooge.
Take for example, the story of one stooge. A stooge that went from humble beginnings to a career as a Stooge with a capital S. At one point, among the three most famous Stooges.
In December of 1919, Howard Thurston found himself backstage at the American Theater in St. Louis face to face with a 12 year old begging to be part of the show. It was a familiar situation; Thurston played St. Louis annually and this was the fifth year in a row the kid had somehow made it behind the curtains to meet the magician and beg for a job. The fifth year! This time, though, the kid came to Thurston with experience under his belt. In addition to a brief stint as a singing usher in a local theater he had spent the summer touring with a carnival. This year the kid was in luck, because the famous magician needed a stooge.
For the rest of the St. Louis run, the kid was to sit in a special seat in the third row. Thurston would move from the stage and do a series of watch vanishes, with a successively larger watch each time. Finally, he would vanish an alarm clock and muse on where the clock had actually gone. A ringing sound would come from the special seat, as an electric bell was rigged beneath it. The kid would jump up, appearing surprised and Thurston would then produce a duplicate alarm clock from the kid's jacket. The run went well as the youngster had a desire to perform and a real comedic flair enhanced by a funny, whiny voice. Unwilling to leave the show, the kid slipped unnoticed down to the train yard and into one of the many boxcars that carried Thurston's equipment. Unfortunately for the kid, the crate he chose to use as a bed was also a lion cage! Thankfully, our precious protagonist made the journey to Detroit safely where he was discovered, rescued and (after a bit more begging) allowed to join the show.
Thurston sent a wire to the kid's parents back in St. Louis, who consented to the new job for their son. Although this might be surprising to modern sensibilities, in the years between the World Wars it was still common for boys to enter trades or apprenticeship programs around the age of 12. Also, the kid's older brother was earning a good living in the entertainment industry (touring the vaudeville circuit at the time, after several years with Buffalo Bill's Wild West Show) so their younger son's new vocation was not the shock it would have been to other parents. Thanks to his understanding parents, the once and future stooge was now touring the country with one of the most famous acts in the country and earning $12 a week. Joe Besser had officially broken into show business!
Besser took to his new work in an odd way. Despite his best intentions, he had a knack for comedic mistakes. Starting from his very first stage appearance, when in his excitement he pulled a duplicate rabbit out of Thurston's pocket before the magician had quite finished vanishing the original, Besser made people laugh. By his own account in his autobiography "Once A Stooge, Always A Stooge," Joe's comedic side was encouraged by the magician and his role grew. On stage, he tripped, dropped props and made faces. Off stage, Joe Besser grew very close to Thurston and even spent the one off month the show had each year in a spare bedroom in the magician's home. It was in June of 1923 that Joe decided that it was time for him to leave the Thurston show, even though it was difficult to leave. In his autobiography Besser wrote that Thurston "always treated me like a son," but Joe was determined to make it on his own as an entertainer.
Finding himself one of many unemployed entertainers in New York City, Joe Besser eventually returned to the role as a magic assistant when he secured a job with Madame Herrmann, who was successfully touring with an act adapted from her late husband's show. Unfortunately, Besser came quickly to regret leaving Thurston as he found working with Madame Herrmann very difficult. He describes her as foul tempered and unhappy with his comedic touches. His time with the Herrmann show was very short, and he left to become an assistant to an aerialist.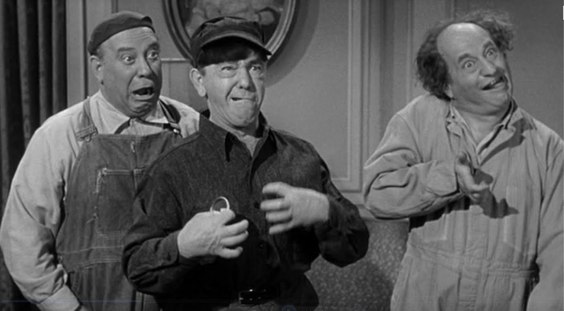 Eventually Joe Besser became a comic and an extremely successful one. His comedy led to a spot in The Passing Show on 1932, a Broadway production built from established vaudeville acts. Here he met Ted Healy and His Stooges for the first time. This was before they were doing short films on their own during the Shemp's first tenure with Moe and Larry. After his Broadway run Besser returned to the vaudeville circuit and started working more and more on the radio. His whiny voice could be heard with Jack Benny, Fred Allen and Milton Berle. This success led to movies and a move from New York to Los Angeles, where he soon discovered Shemp Howard was living only about a mile away. They were soon close friends. Another neighbor was mutual friend Lou Costello, which led to both Shemp and Joe appearing in Abbott and Costello's film Africa Screams.
In addition to film and radio work Joe Besser was beginning to work in the new field of television. Eventually he became a fixture on Abbott and Costello's TV show, playing a child bully named Stinky (despite the fact he was obviously an adult in a Victorian era child's sailor shirt and short pants outfit), and The Joey Bishop Show. However, most people recognize Joe Besser today as a stooge. Not Thurston's stooge, but a Stooge. Although it was bittersweet to replace his dear friend, Joe Besser was asked by Moe to join The Three Stooges to finish their final Columbia contract. The Joe era shorts are a bit weaker than earlier efforts. Some fans blame Joe, who played a kind of grown up version of the whiny, selfish Stinky character, but in all fairness it should be remembered that The Stooges were beginning to see a backlash against their violent slapstick style. The original Stooges were also not quite as young as they once had been which probably should be taken into account as well.
After his stint with The Stooges, Joe Besser returned to television and movie work. As he found regular roles beginning to dry up, he got a new offer in the 1970s and began recording cartoon voices for Hannah-Barbera Productions. His most recognizable role is as Babu, Jeanie's bumbling and oversized apprentice genie in her animated adventures and Laff-A-Lympics. He was also in other shows including a later incarnation of The Flinstones and even a Smurfs special. Joe Besser passed away in 1988. From humble origins as an audience plant in Howard Thurston's show he launched an amazing career that spanned five decades, boasts over 100 credits on IMDB and allowed him to work with everyone from Jerry Lewis to Scooby Doo.
But began with a simple alarm clock.