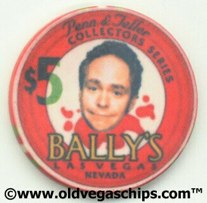 As the milestone stories pour in reflecting on Penn & Teller's 20 year anniversary of their first Vegas performance, Mike Weatherford brings up an interesting question.
How much credit should P&T receieve for transforming Sin City's reputation as a place where once-great performers went to cash in to a vibrant arts destination? He quotes Penn on what their plan was taking up residency at the Rio.
The duo arrived just when Las Vegas was starting to shed its image as an elephant's graveyard for has-been performers, and arguably helped quicken that shedding process.

"The general idea of Vegas is you get your act together, and you come here and do that same act until you die. That was not the Penn & Teller plan. The Penn & Teller plan was to come here and live and do what we do with our lives." …
It's an interesting idea. If such a data set existed, I'd be curious to see if there was a net change in additions to an act before and after when Penn & Teller moved in. Not to say that they invented the concept, but you couldn't argue that they didn't contribute to making it cool.