iTricks writer Michael Lauck explains that the White House has been a magical place since at least the mid-19th century.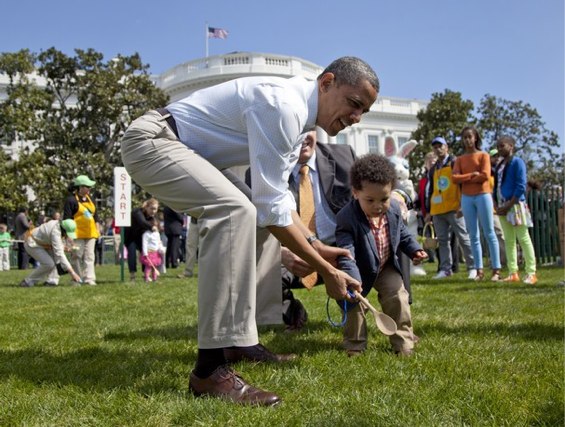 What came first for magicians, the President or the egg?
Since the first performance in 1845, a who's who of magicians have performed for the White House on pretty much every holiday, except President's Day. Some were regulars, earning nicknames like White House Magician, while meetings like the one between Houdini and Theodore Roosevelt were fleeting.
But there is one holiday that seems to pack them in most of all.
The White House has been hosting an annual Easter Egg Roll for over 130 years, and the event often includes magicians to entertain the families in attendance. The Egg Roll goes back to the days when children often spent Easter Monday playing with their new eggs… rolling them in races or for distance, playing catch with them and spinning eggs were all popular activities (yes, this was all before Nintendo). The children or grandchildren in the President's family would have been no strangers to these activities and private family Easter egg rolls at the White House are thought to go back to the days of Andrew Jackson.
By the post Civil War-era, believe it or not, the White House lawns were popular play fields for local children and impromptu Easter Monday gatherings were becoming a regular occurrence. After a particularly messy Easter Monday in 1876 a new law was passed forbidding children playing on the Capitol grounds (evidently Congress was already having trouble paying for the lawn's upkeep and it isn't like Congress has a reputation for being fun). 1877 was too rainy to play outside but in 1878 the law was going to be enforced; it was even announced in the local papers.
A group of children approached President Hayes (security wasn't the same in the old days) and asked about egg rolling on the South Lawn. After learning about the tradition and the new law he announced that children would be allowed to have an Easter egg roll on the South Lawn (evidently Executive Orders and Unfunded Federal Mandates existed even back then) and the event has continued to this day, interrupted only by poor weather and the World Wars. Now. as we approach the 135th White House Easter Egg Roll, the event has grown from a small, informal gathering of local children to an official event, which often includes performers to entertain families lucky enough to secure a ticket.
According to Dean Carnegie (on his blog TheMagicDetective.com), Thurston, Blackstone Jr. (son of the original Magic Detective!), Al Cohen, Mac King and Doug Henning have all performed at the Easter Egg roll as have many others (including, I am told, one Mr. Dean Carnegie). I am not sure if any magicians are appearing this year as the details on the 2013 Egg Roll have not yet been announced. If anyone reading this is booked to play the White House Easter Monday be sure to let iTricks know! If you aren't booked but still want to go, the lottery for 2013 Easter Egg Roll tickets opens this Thursday, February 21st.
Of course, magicians are not limited to Easter when it comes to Presidential bookings. In 1845, Alexander Heimburger appears to have been the very first magician to perform in the White House (for President Polk). Under the name Alexander the Conjurer he toured the United States, South America and the West Indies and amassed a fortune that allowed him to retire at a relatively young age. Houdini tracked him down years later and wrote about meeting him in Unmasking Robert-Houdin. The Polks must have been fans of magic as Kellar's teacher, the Fakir of Ava, claimed to have performed a magical seance for the President's widow years later. Houdini met Theodore Roosevelt while the two were traveling on a ship, and later had other people airbrushed out of a photograph so only he and the former President remained! He also visited President Woodrow Wilson at the White House in 1915. Milbourne Christopher, J. Elder Blackledge and The Terrells all performed at White House in the years after World War II and Washington DC magic store owner Harry Baker was even called "The White House Magician" by Genii in a 1952 article on his magic shop.
Who was The White House magician?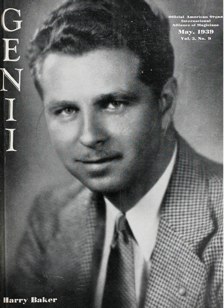 Harry Baker is not widely recognized today, but he was a regular in the magic magazines from the later 1930s until his death in 1961. The son of a professional acrobat, Baker was born in Chicago and spent his early days performing music and formed a group that played area proms and dances. His transition to magic began when he began to add tricks to his bandleader duties. The April 1939 issue of Genii mentions in passing that he has been booked to play the White House for their Easter festivities (not his first appearance there as he had entertained at a tea party for the First Lady the year before) and he found himself the magazine's cover boy the very next issue. The attached story laments the fact that Baker was not a full time performer but the business manager for Wilson Steamship Lines. Just before World War II Baker took Genii's advice and left his day job to embrace magic full time. Like so many others, the war interrupted his career and Baker found himself with a Captain's commission (most references say he was in the Army, but at least one period report states he is heading to the US Marines) and stationed in far-off Alaska. Although many people do not realize it today, Alaska was an incredibly important territory during World War II (and into the Cold War). The Japanese actually invaded the Aleutian Islands in 1942. We had tens of thousands of men stationed in the area to keep the Axis from invading Canada or establishing a toehold to launch attacks against the US west coast.
After the war Baker returned to the Washington DC area and by 1947 had opened a magic shop which he normally manned his with assistant Dolly Snow. The first day of business, though, Blackstone was in town with his show and acted as the shop's first demonstrator and clerk! The shop featured not only a full workshop in the back, allowing Baker to perform repairs on props and built custom orders, but a talent agency specializing in kids' entertainment. In 1951 Harry Baker ventured into the exciting new medium of television with Magic In Motion, his own weekly program.
He added to his reputation as The White House Magician by adding performances for President Truman to his previous White House engagements. In addition to this very busy and successful career, Harry Baker had plenty of time for his fellow magicians and served as President of the Magic Dealers Association, Atlantic Regional Vice President of SAM, chairman of SAM's 1946 conference in Washington DC and President of his local SAM group in the 1930s. Harry Baker passed away in 1961, leaving his hands in the capable hands of Dolly Snow.
Even though performers such as Alexander the Conjurer and Harry Baker are gone, the tradition of White House magic engagements continues to this day. Eric Henning, Domino the Great. John Ekin and many other performers have brought their talents to the White House. If this year's White House Egg Roll includes magicians, we'll be sure to pass along the links for the live streams of the festivities.