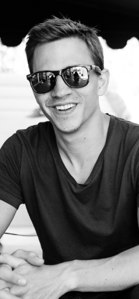 As you lounge on your couch and try to recover from your New Year celebration there will be plenty of magic on television.
• As already mentioned on iTricks.com, Murray Sawchuck will be visiting the Hallmark Channel's Home and Family show Wednesday morning. It runs from 6:00 AM to 8:00 AM Eastern and then immediately repeats from 8:00 AM to 10:00 AM.
• Friday will see Justin Flom visiting The Ellen DeGeneres Show; it is syndicated so you need to check your local listings.
• Saturday brings a blast from the past on G4 (which is supposed to be undergoing a revamp but seems to be running pretty much the same stuff) when Lance Burton squares off against The Hoff on Knight Rider at 9:00 AM Eastern. Can't wait until Saturday? Well, we have featured this clip before, but here's a little taste of the 1980s goodness!